Confronted with significant challenges in managing their supply chain due to fragmented software solutions and data silos, retail and consumer packaged goods (CPG) enterprises need unified platforms that support the demand for customization while maintaining agility. Learn about the benefits and components of composable platforms as well as the collaborative role ecosystem stakeholders can play to bring together the supply chain landscape in this blog.
Reach out for more information on this topic.
The retail and CPG industry supply chain is a complex web of suppliers, manufacturers, distributors, and retailers. Daily fluctuations in consumer demand patterns and the rapid growth of e-commerce and newer business models have further increased the intricacy.
Yet, half of the industry has not moved past using spreadsheets and custom-built discrete solutions to manage their operations. Based on an Everest Group study, almost 48% of retailers and consumer goods companies still track their supply chains using spreadsheets. While these solutions are powerful tools, they often lead to siloed data and disjointed processes, resulting in delays and poor supply chain visibility. Let's explore these limitations and a better solution.
Fragmented supply chain software solutions
The supply chain is a core function not only in retail and CPG but a building block of the economic infrastructure for many other industries. However, no multi-billion-dollar end-to-end supply chain platform company exists like Salesforce in customer relationship management (CRM), Workday in Human Resources (HR), ServiceNow in IT service management (ITSM), and Oracle and SAP in Enterprise Resource Planning (ERP).
The application landscape is fragmented across different departments, such as transportation, warehousing, procurement, planning, and inventory management, with each having its own goals and limited alignment, leading to distinct silos.
Software providers also target these separate buying centers, resulting in various supply chain software categories having great diversity. Due to this heterogeneity and the lack of unified ownership, no comprehensive solution that covers the entire end-to-end supply chain is available.
Data silos across the value chain
The fragmented nature of the application landscape also creates data silos that pose significant challenges within the retail supply chain, hindering efficiency and inhibiting strategic decision-making.
According to our recent study, almost 83% of retailers struggle with data silos across various functions such as inventory management, procurement, logistics, and point of sale (POS) systems. This disconnected data landscape not only impedes supply chain visibility but also results in missed opportunities for cost savings and improved customer experience.
Need for customization
Customizing supply chain is a top demand for retail and CPG enterprises. Many companies have spent decades building software that uniquely fits their purposes.
Enterprises transforming their supply chain are either migrating or replicating these solutions to the cloud. However, they are finding out-of-the-box solutions such as Blue Yonder, SAP, Manhattan, and others do not fit the purpose in most cases. Roughly 30-50% of enterprises, even digitally mature ones, still need customization.
Moreover, the RCPG industry also requires workflow applications and other low-code applications to augment the day-to-day decision-making of different system stakeholders. For these reasons, a unified platform that supports customization while maintaining agility is crucial.
Target state of supply chain platformization
By integrating suppliers, manufacturers, distributors, and retailers on a unified platform, organizations can achieve end-to-end visibility, optimize inventory levels, reduce stockouts, and improve customer satisfaction. Real-time data analytics empower stakeholders to anticipate demand, optimize production schedules, and minimize waste.
This unified supply chain management platform should have the following five components:
Orchestration – The platform should have end-to-end capabilities that not only orchestrate core business applications such as inventory management and supply chain planning but also value-add applications such as sustainability monitoring and supplier risk management, among others
Composability – The platform architecture should be a composite structure of granular components interconnected by business logic and extensible as required. Components in composable platforms promote interoperability, allowing different components developed using various technologies or programming languages to work together seamlessly. This interoperability is typically achieved through standardized protocols, data formats, or communication mechanisms
Scalability – The platform should be built on the cloud to provide scalability as the supply chain process scales up in volume and complexity. The platform should also have integration capabilities that support seamless data exchange and communication between on-premise systems and cloud services. This includes connectors, application programming interfaces (APIs), or middleware solutions that enable smooth data flow and interoperability between the different environments
Unified data fabric – The traditional linear data value chain should be replaced by a collapsed one with structured and unstructured internal and external data all in one location. The platform should act as a single repository of all the supply chain data that is standardized and can be accessed in real-time
Extendibility – The platform should provide the ability to extend existing applications as the business scales. It should have developer portals to build supply chain services/products and a marketplace for technology partners to integrate their solutions on the platform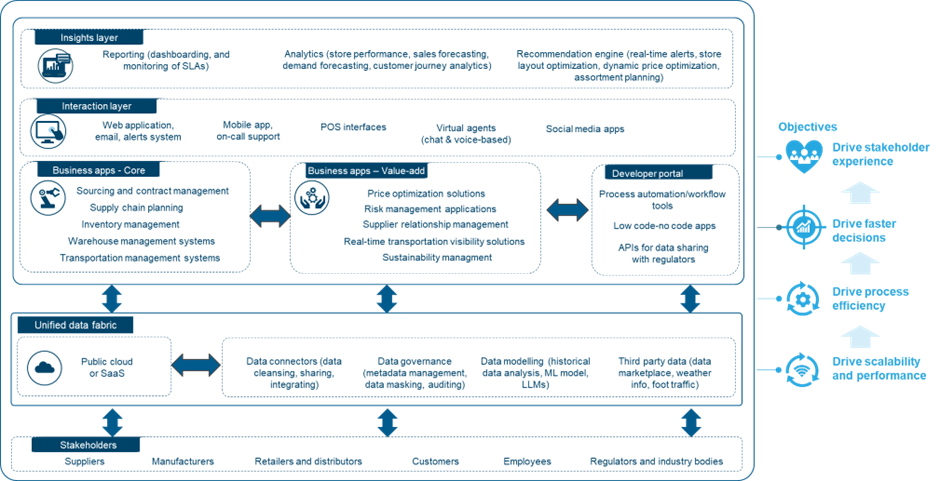 Consolidating the current fragmented supply chain platform landscape is no easy feat and requires collaboration by hyperscalers, data cloud vendors, and enterprise application providers. Some of the players to roll out collaborative initiatives include:
Blue Yonder, in partnership with Snowflake and Azure, is consolidating the majority of its solutions offerings on the Luminate platform
Microsoft launched its supply chain platform late last year, which aims to provide platformization building blocks across Azure, Dynamics 365, Microsoft Teams, and Power Platform
Technical debt prevents many large enterprises from undergoing supply chain platformization. Our analysis of supply chain investments by retail leaders indicates the end-to-end platformization journey needs to be iterative and not a big-bang transition. It also requires a balanced approach of adopting out-of-the-box applications and building composable applications from the ground up to fit the organizational context.
Everest Group will continue to follow the evolution in this space. To discuss composable platforms and other supply chain management trends in the retail and CPG industry, please reach out to [email protected] and [email protected].
Learn the key technology investment priorities for retail and CPG in our LinkedIn Live session, The Future of Retail and CPG: Balancing Economics, Efficiency & Experience.