Oracle still ranks number one in the cloud ERP market with high enterprise satisfaction for its licensing, functionality, integration and customization, talent and community, and user adoption. But SAP and Microsoft have made notable improvements over the past two years and are moving closer to the leader in the ERP cloud war. Read on to learn the latest insights and five things that companies today demand from large enterprise resource planning (ERP) platforms.
In our blog in 2019, Oracle Wins Over Microsoft and SAP in the Cloud ERP BigTech Battle, we discussed how Oracle ERP Cloud is winning against SAP S/4HANA and Microsoft Dynamics 365.
Since then, we have interviewed more than 200 enterprise clients to collect feedback on major platforms as part of various PEAK Matrix® assessments, including Microsoft Dynamics 365 Services PEAK Matrix® Assessment 2021, SAP S/4HANA Services PEAK Matrix® Assessment 2021, and Oracle Cloud Applications (OCA) Services PEAK Matrix® Assessment 2022.
In our latest research, we share an updated analysis on the cloud ERP market and how this space has evolved. Key insights from these interviews are also summarized in our enterprise pulse study.
The below figure summarizes current enterprise satisfaction for ERP platforms across various dimensions.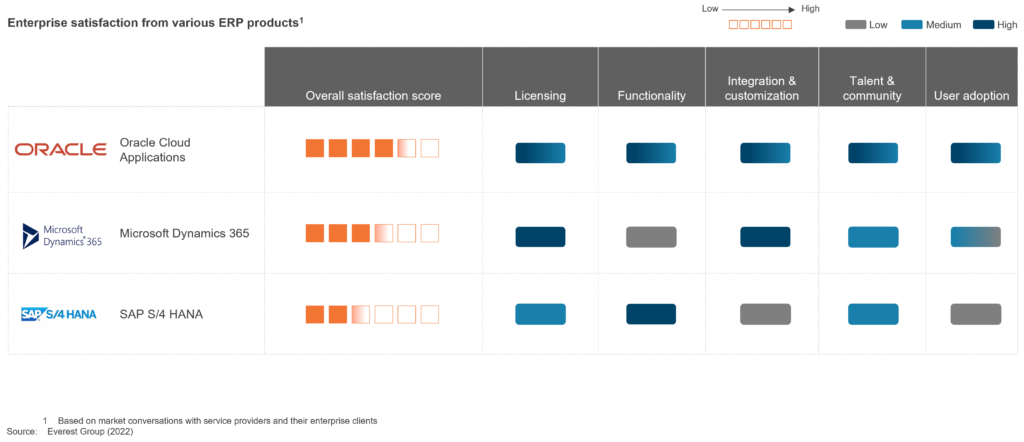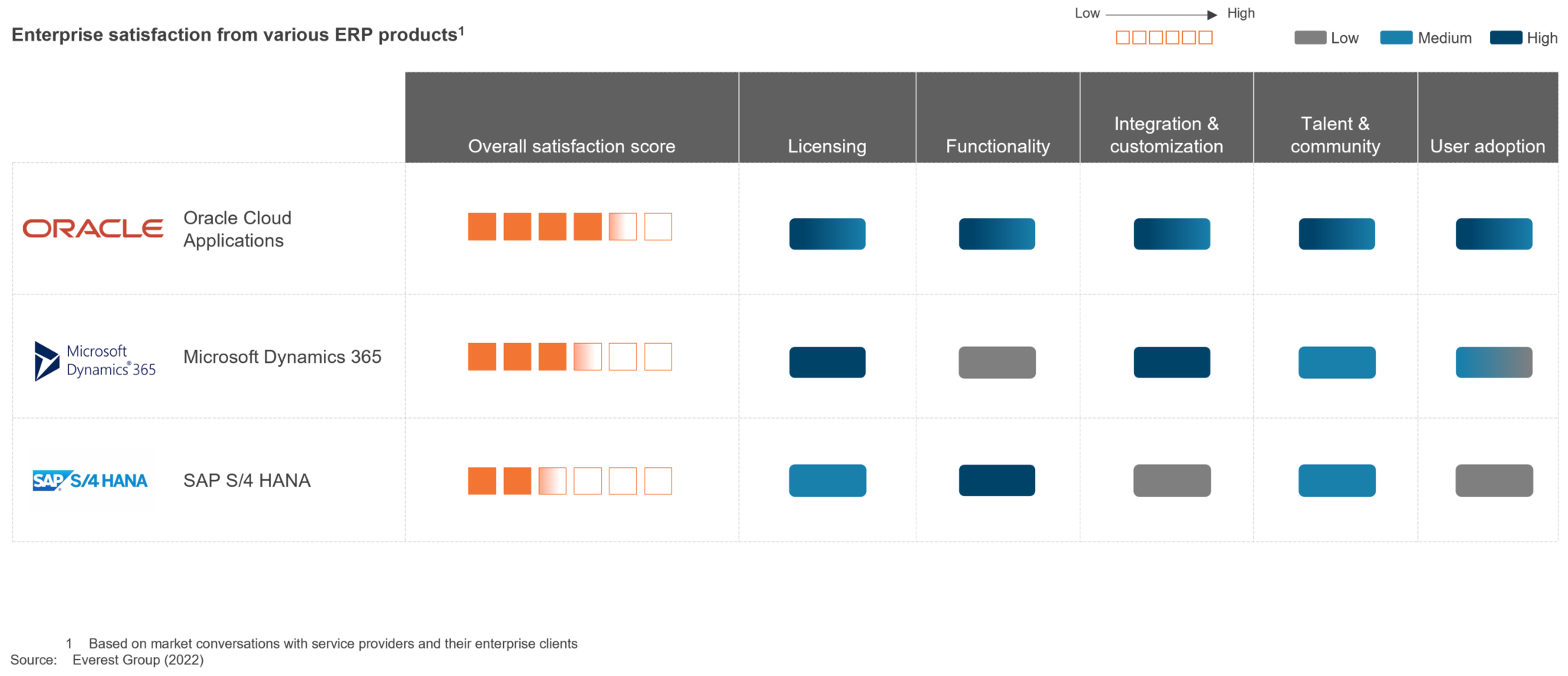 Cloud ERP market updates
Oracle continues to win the cloud ERP market competition, but SAP and Microsoft are inching closer. Let's look at what has changed since 2019:
Oracle has improved its commercial flexibility, which was a major contention among enterprises. Its licensing model is now flexible enough to accommodate both cloud and on-premise workloads. This has eased Oracle customers to transition their core workloads to the cloud
For Microsoft Dynamics 365, multiple enterprises have vouched that talent availability and overall customer experience have improved, especially among SMB clientele. Adoption has increased due to mature sales and service capabilities along with affordable commercials. In general, Microsoft Dynamics has struggled with large enterprises in the past and is now making inroads into large clientele
For SAP S/4HANA, enterprises have observed that innovation from SAP into Business Technology Platform, together with mature partner solutions, have contributed to improved functionality and cloud capabilities. But SAP is not able to deliver a consistent experience across its on-premise, and cloud versions and its clients continue to suffer from integration challenges
What do enterprises expect from large ERP platforms?
Improve cloud functionality: Oracle cloud applications are a more mature offering than S/4 HANA and Dynamics. However, for all the vendors, the cloud versions will still take at least five years to reach the maturity of the on-premise version. For example, in Microsoft Dynamics, the maturity of products beyond sales and service is a concern, especially for marketing and commerce. Meanwhile, in Oracle, enterprises have expressed worries over the maturity of CX cloud; for SAP, HR, sales, and service modules continue to be concern areas
Enhance integration capabilities: Enterprises we interviewed said cloud ERP integration challenges continue to persist in the SAP landscape. End users often complain about broken experiences across cloud and on-premise systems. SAP needs to knit together all its business applications that are either developed in-house or acquired to work cohesively to deliver a superior end-user experience and enhance adoption
Strengthen partner ecosystem: Enterprises believe ERP platforms should further strengthen the partner program and solve challenges in the network ecosystem. They opine that System Integrators (SIs) fail to understand clients' non-standard approaches and business-specific use cases. Present industry-specific applications across all three vendor ecosystems require high customization. Technology vendors should build scalable industry solutions in close collaboration with the enterprises and the SI ecosystem
Buttress talent availability: Another challenge enterprises continue to face is talent availability, especially for complex cloud modernization initiatives. The demand-supply gap is relatively higher for SAP skills compared to Microsoft and Oracle. Technology vendors should ramp up their investments in collaboration with service partners to scale up the talent base, especially for newer product areas
Offer hyperscalers flexibility: Enterprises believe that switching costs increase exponentially by tightly coupling applications with infrastructure. Customers want multiple vendors in their landscape to maintain price competitiveness. They expect Oracle and Microsoft to provide the flexibility to run cloud applications in an equally efficient manner on hyperscalers of their choice
Although current analysis shows Oracle continues to lead the cloud ERP market, it needs to continuously evaluate changing enterprise expectations and make targeted investments to consistently drive higher value for its clients.
How has your experience been with SAP, Oracle, and Microsoft? Please share your thoughts about the cloud ERP market with us at [email protected] and [email protected]. Or contact us.