The robotic surgery market has surged over the last decade. According to an article published by the JAMA Network Open in early January 2020, robot-assisted surgical procedures accounted for 15.1 percent of all general surgeries in 2018, up from 1.8 percent in 2012. And the market has grown even more since 2018. For example, the utilization rate of Intuitive Surgical's da Vinci robot in US hospitals has grown more than 400 percent in the last three years.
To capture their piece of the robotic surgery market pie, other MedTech giants, including Johnson & Johnson (J&J), Medtronic, Stryker, and Zimmer Biomet have turned to acquisitions and strategic partnerships. Stryker paid a whopping US$1.65 billion in 2013 to acquire Mako Surgical Corp. Zimmer Biomet bought Medtech for its Rosa Surgical Robot in 2016 for US$132 million. J&J and Medtronic acquired Orthotaxy and Mazor Robotics, respectively, in 2018. And J&J subsequently bought Auris Health and Verb Surgical in 2019.
With all this money being spent on robotic surgery company acquisitions, it is clear that the MedTech giants intended to fight head-on with one another to build the best surgical robot.
But building the best surgical robot does not assure market leadership.  Indeed, robotics is only one aspect of the digital surgery ecosystem. In order to excel in the robotic surgery space, companies need to build solutions that complement their surgical robots with digital technology tools and capabilities.
Transforming from robotic surgery to digital surgery
As you see in the following image, the digital surgery ecosystem consists of imaging, visualization, analytics, and interoperability technologies that enhance the capabilities of surgical robots, enabling companies to unlock the full array of potential benefits robotic surgery has to offer – better precision and control, enhanced surgical visibility, remote surgery, better clinician and patient experiences, etc.
Let's take a quick look at the value each of the digital technologies can bring to robotic surgery.
AI/ML and data analytics will help the robots learn from past procedures and ensure better surgery planning and reasoning. They will also help support cognitive functions such as decision making, problem solving, and speech recognition. One real-world example of AI/ML is Stryker's Mako robot, which learns from past procedures to ensure better positioning of surgical implants for stability
Strong network and connectivity will enable real-time data sharing of patient outcomes, best practices, and support remote surgery at a global level
Augmented Reality/Virtual Reality (AR/VR) and advanced visualization technologies enhance surgical visibility beyond the naked eye and improve anatomical education and surgeon training modalities through interactive simulations
Remote monitoring, sensors, and wearables can assist in intra-operative and post-operative surgical care through real-time data exchange for better clinical outcomes and reduced care costs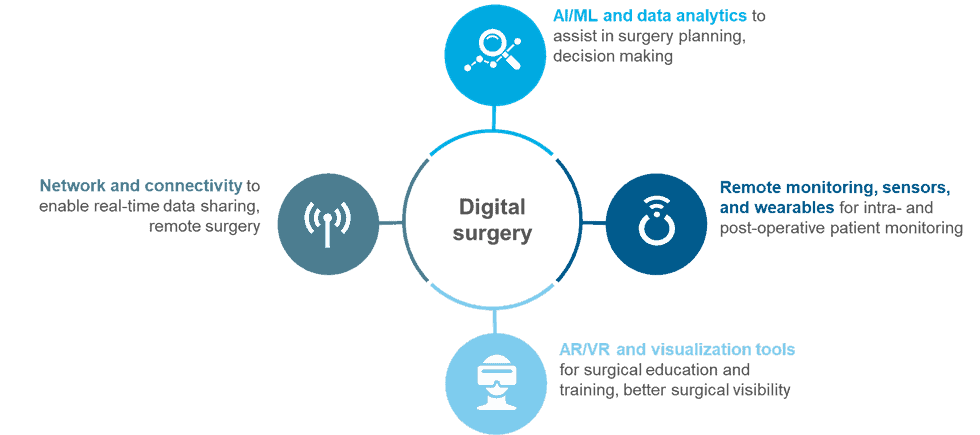 Realizing the benefits of digital technologies, MedTech companies are starting to make investments in them to augment their surgical robots. For example, Medtronic in 2020 acquired Digital Surgery, a leader in surgical AI, data and analytics, and digital education and training to strengthen its robotic-assisted surgery platform. Similarly, in 2021, Stryker acquired Orthosensor to enhance its Mako surgical robotics systems with smart sensor technologies and wearables, and Zimmer partnered with Canary Medical to develop smart knee implants. MedTech companies are also starting to change their branding to reflect their move to digital. For example, J&J is positioning its new offerings as digital surgery platforms instead of robotic surgery platforms.
Building a single, connected next-generation digital surgery platform
Building specialized robots for different surgical procedures requires either a huge capital investment to acquire such individualized capabilities or extensive resources and time to develop them in-house. So, it's neither feasible nor cost-effective to do so. Therefore, it would be ideal for MedTech organizations to focus on developing one robot that supports the entire breadth of surgical procedures.
With their history of robotic acquisitions over the last three years, MedTech giants should be looking at integrating multiple point solutions to build a single, connected next-generation digital surgery platform. The following image depicts our vision of a truly connected digital surgery ecosystem built around a digital surgery platform. It ensures interoperability among all types of surgical robots so they can continually learn and evolve by sharing best practices, surgical procedures, and associated patient data.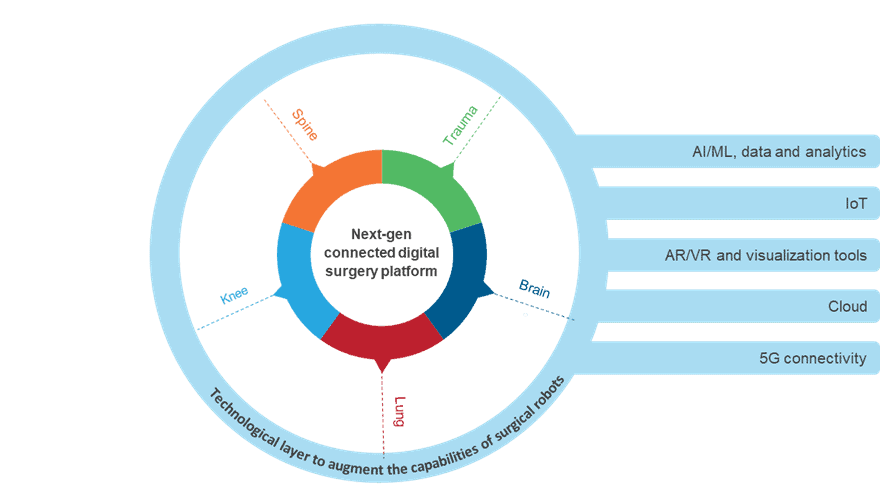 J&J has already shared its vision and roadmap for building a next-generation digital surgery platform. It brings together robotics, visualization, advanced instrumentation, connectivity, and data analytics to enable its digital surgery platform to improve outcomes across a broad range of disease states. It has announced its plans to integrate its recently unveiled Ottava platform with the Monarch platform it gained from its 2019 acquisition of Auris Health to build a strong position in the digital surgery market.
With MedTech giants in the initial phase of building their next-generation connected digital surgery ecosystem, they will need to have the right fit of complementary digital technologies to truly scale their impact – alleviating surgeon workloads, driving productivity, enabling personalization, and better clinical outcomes. Service providers that bring niche talent and a balanced portfolio of engineering and digital services will be a partner of choice for MedTech giants in this journey.
Please share your views on robotic surgery and the digital surgery ecosystem with us at [email protected] and [email protected].