Product innovation has been lacking in the healthcare payer product space. But can this be changing? Oscar Health's launch of +Oscar platform may lead to an uptick in new product launches.
Soon after officially going public in March, the US-based digital native health insurer introduced +Oscar, a tech-driven platform business designed to help healthcare clients drive improved efficiency, growth, and engagement with their members and patients. +Oscar offers a cloud-based service architecture and integrated data and analytics layer to serve clients spanning the individual, Medicare Advantage, and group lines of payer business.
What led to this move?
The healthcare payer industry is rapidly changing, marked by a seminal shift to value-based care, rise in consumerism and digitization, and demand for personalized member experience, among other factors. Despite the dynamic nature of the market, the healthcare payer product space has not evolved at the same pace.
With the launch of +Oscar following the January news of Optum's acquisition of Change Healthcare, the tides could be changing in this space. We expect the spurt already witnessed in product development activities in the payer industry to continue and accelerated product launches to follow.
The payer product/platform space has traditionally been dominated by larger players such as Cognizant (TriZetto Healthcare Products), HealthEdge, and Oracle, which offer productized core administrative platforms. In addition, point solution providers such as Optum (Change Healthcare) and Cotiviti offer solutions addressing one or more segments across the payer value chain. While payers feel most of the available products/platforms lack the essential digital dexterity, we believe that Oscar's digital native payer platform is one of the significant developments in addressing this issue.
Unpacking +Oscar

Below is the key business value proposition of +Oscar: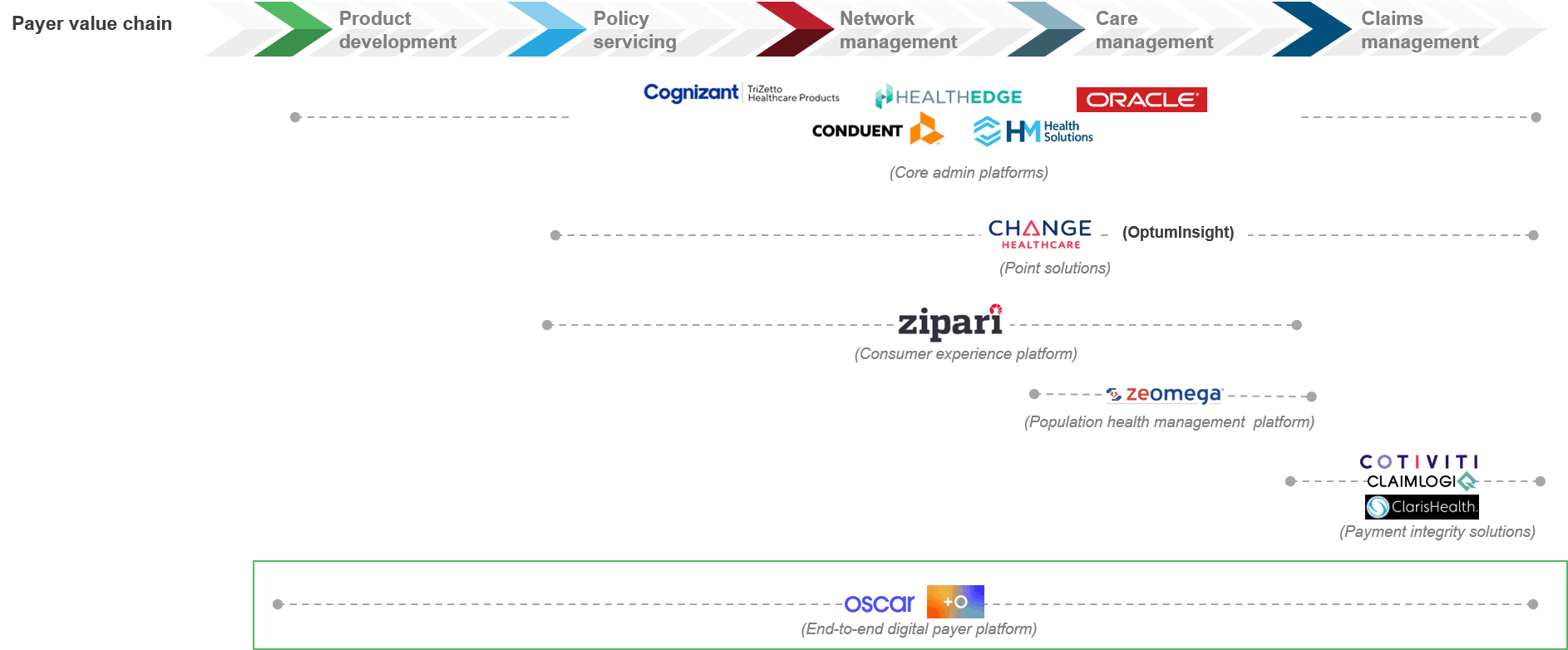 What works in Oscar's favor?
Everest Group conducted focused interviews in the fourth quarter of 2019 with ten senior executives (CIOs and COOs) across the payer spectrum to understand their challenges and approaches to a platform-led modernization approach (read more at A Platform-based Roadmap for Healthcare Payers). Here is how +Oscar aligns to the key themes that we explored in these interviews: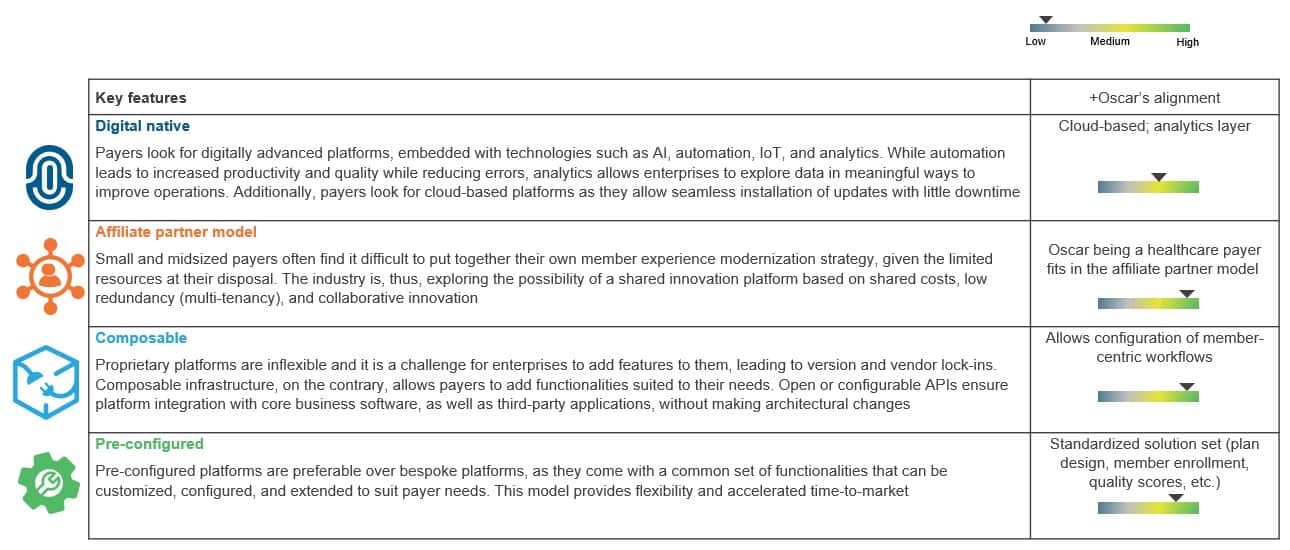 One of the key takeaways from the executive conversations was increasing traction toward an affiliate partner model. An affiliate partner model offers multiple benefits such as combined resources and domain expertise to drive innovation, shared ownership of innovation risk, and economies of scale to drive down costs. Having a payer affiliate as an IT partner is advantageous for healthcare plans (specifically for the small ones), as the partner understands their culture and business dynamics better. Hence, the affiliate model that Oscar Health offers makes +Oscar more relevant in the market.
What's next?                                                              
With the payer technology market witnessing a strong nudge to innovate, we believe the launch of +Oscar is an indicator of the things to come. With BigTechs (Amazon, Microsoft, Salesforce, ServiceNow) making big bets in the core healthcare segment (Amazon HealthLake and the Microsoft Nuance deal) and digital native payers externalizing their technology, traditional product vendors will need to up their games to remain competitive.
We are positive about this investment by Oscar Health. However, it remains to be seen how Oscar leverages an affiliate partner model as well as addresses the main issue of Return on Investment (RoI) to build a valid business case for +Oscar.
Reach out to us at [email protected] or [email protected] with your thoughts.