It's been close to a month since Amazon Web Services (AWS) announced Amazon HealthLake at its 2020 annual (and virtual) conference. After observing the reactions from various industry participants, we thought it was time to offer our opinion.
Amazon HealthLake is a HIPAA-eligible service that aims to support interoperability standards and further drive the use of big data analytics in healthcare and life sciences. The service is essentially a data lake tailored for the healthcare and life sciences industry. It will aggregate an organization's data across various silos and disparate formats into a centralized AWS data lake, and automatically normalize this information using machine learning. It will be capable of identifying each piece of clinical information and tagging and indexing events in a timeline view with standardized labels so they can be easily searched. This structured data can then be offloaded to a service such as Amazon SageMaker to train machine learning models for advanced analytics. HealthLake will also structure all the data into the Fast Healthcare Interoperability Resources (FHIR) industry standard format to enable data sharing throughout the organization.
Exhibit 1: Amazon HealthLake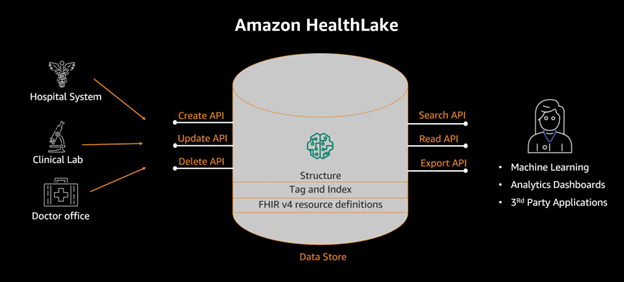 Source: AWS (https://aws.amazon.com/healthlake/)
What's in it for the healthcare and life sciences industry?
This is definitely a positive step for AWS to showcase an industry-specific solution for its clients and prospects. Amazon HealthLake provides a contextualized solution for addressing some critical challenges the healthcare and life sciences industry is facing, namely working with siloed, unstructured, and incomplete data stored across multiple systems, lab reports, medical images, insurance claims, and time-series data (for example, heart ECG or brain EEG traces.) Putting data at the center of the business allows the development of innovative products and services and provides the opportunity to revolutionize business models. AWS's approach enables healthcare industry professionals to focus on mission-critical activities while it manages the data complexity.
Some of the key use cases for HealthLake include:
Payers – HealthLake will help health insurance companies predict more accurate insurance premiums, design data-driven insurance policies, and carry out effective claims management by bringing together a complete view of a patient's medical history.
Providers – Healthlake can integrate with other AWS machine learning and analytics services, like Amazon SageMaker and QuickSight, to improve efficiency and reduce hospital waste. Some of the core use cases include population health management, clinical decision support, revenue cycle management, scheduling optimization, reducing unnecessary procedures, and addressing privacy and security requirements.
Pharma/Biotech – Clinical researchers are struggling with ever-increasing volumes of data from trial sites, patients, CROs, and other vendors, as well as from newer resources like EHR and wearable technology. HealthLake can help life sciences enterprises revolutionize data-driven R&D, advance clinical research with predictive analytics, and enhance pharmacovigilance.
HealthLake fits perfectly in Amazon's data-hinged healthcare strategy
Amazon is aiming to transform healthcare by putting a well-developed range of integrated technology solutions supported by a second-to-none data asset, similar to its disruptive approach in the retail industry with low costs, high customer convenience, and a great recommendation engine. A key prong of its strategy is healthcare cloud computing, as payers, providers, and life sciences enterprises adopt more cloud computing services to stay on top of the rising volume of patient data.
Amazon HealthLake is another sign that AWS views healthcare as an industry with massive growth potential for its cloud services. AWS has been steadily rolling out HIPAA-eligible computing tools over the past few years in a race with Google Cloud and Microsoft Azure as the industry cloud war intensifies in the nascent healthcare cloud computing space. ​In 2019, the company announced Amazon Transcribe Medical, a voice transcription service for physicians that inputs text directly into medical records. In 2018, it introduced Amazon Comprehend Medical, a service that uses AI to mine medical records for information that can be used to improve patient treatment and reduce costs.
While AWS's long-term strategy for healthcare is anyone's guess right now, it will certainly be an interesting player to watch as well as an exciting one to partner with and compete against.