Automation CoEs in Global Business Services (GBS) centers or Shared Services Centers (SSCs) have evolved over time. Mature GBS adopters of automation have made conscious decisions around the structure and governance CoEs, evolving to extract maximum value from their automation initiatives. Some of the benefits they have hoped to gain from the evolution include:
Faster scaling
More efficient use of automation assets and components, such as licenses and reusable modules
Better talent leverage
Greater business impact
The typical CoE model evolution
CoE models generally evolve from siloed model to centralized and then to a federated:
Siloed model – kick starting the journey
Most GBS centers start their automation initiatives in silos or specific functions. In the early stages of their automation journeys, this approach enables them to gain a stronger understanding of capabilities and benefits of automation and also to achieve quick results.
However, this model has its limits, including suboptimal bot usage, low bargaining power with the vendor, lower reusability of modules and other IP, limited automation capabilities, and limited scale and scope.
The centralized model – building synergies
As automation initiatives evolve, enterprises and GBS organizations recognized the need to integrate these siloed efforts to realize more benefits, leading to the centralized model. This model enables benefits such introducing standard operating procedures (SOPs), better governance, higher reusability of automation assets and components, optimized usage of licenses and resources, and enforcement of best practices. This model also places a greater emphasis on a GBC-/enterprise-wide automation strategy, which is lacking in the siloed model.
However, this model, too, has limitations, suffering slow growth and rate of coverage across business units because the centralized model loses the flexibility, process knowledge, and ownership that individual business units bring to the bot development process.
The federated model – enabling faster scaling
The federated model addresses both of the other models' limitations, enabling many best-in-class GBS centers to scale their automation initiatives rapidly. In this model, the CoE (the hub) handles support activities such as training resources, providing technology infrastructure and governance. Individual business units or functions (the spokes) are responsible for identifying and assessing opportunities and developing and maintaining bots. The model combines the benefits of decentralized bot-development with centralized governance.
The federated model has some limitations, such as reduced control for the CoE hub over the bot development and testing process, and, hence, over standardization, bot quality and module reusability. However, many believe the benefits outweigh the drawbacks.
The three CoE models are described in the figure below.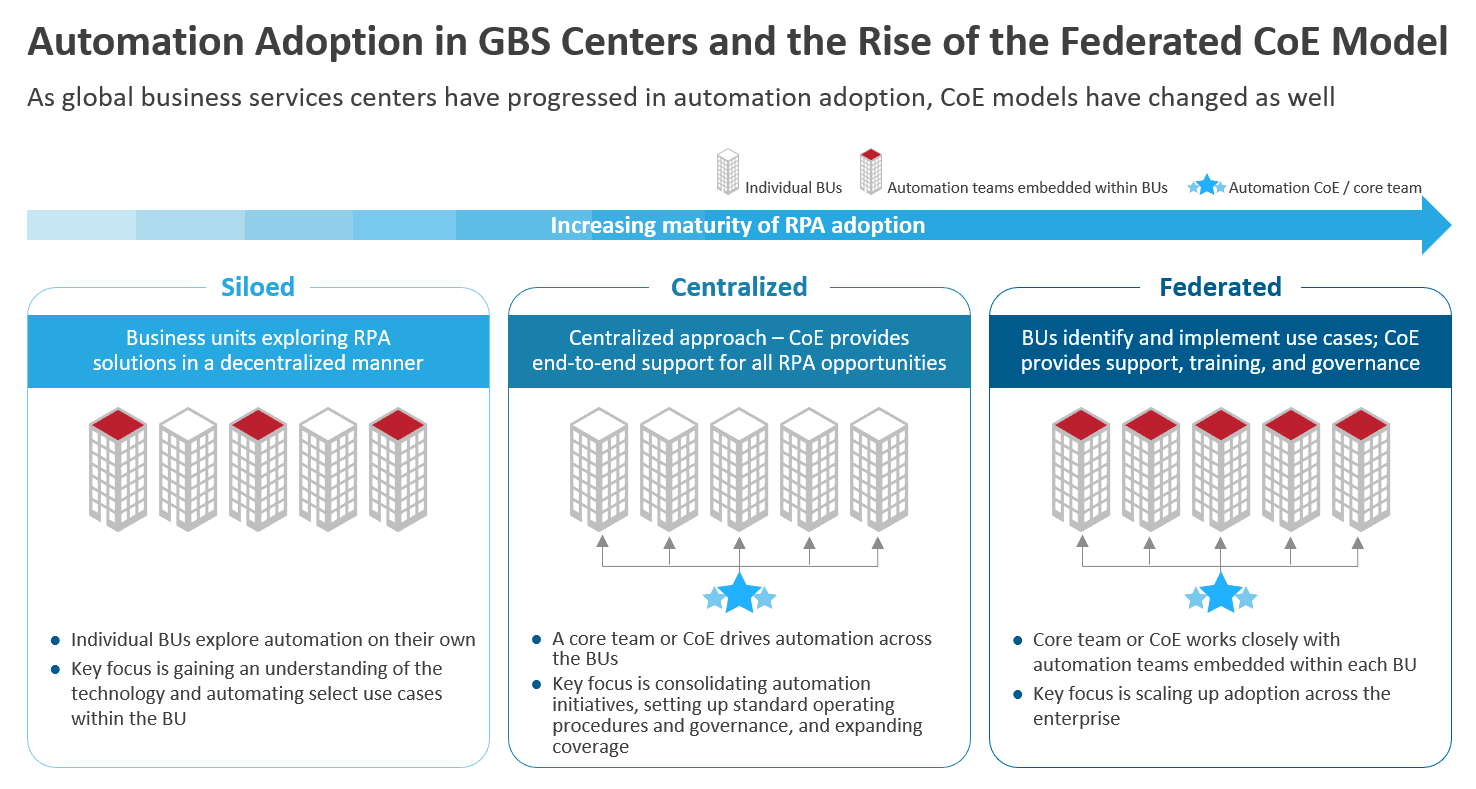 The table shown below shows how the three models compare on various parameters.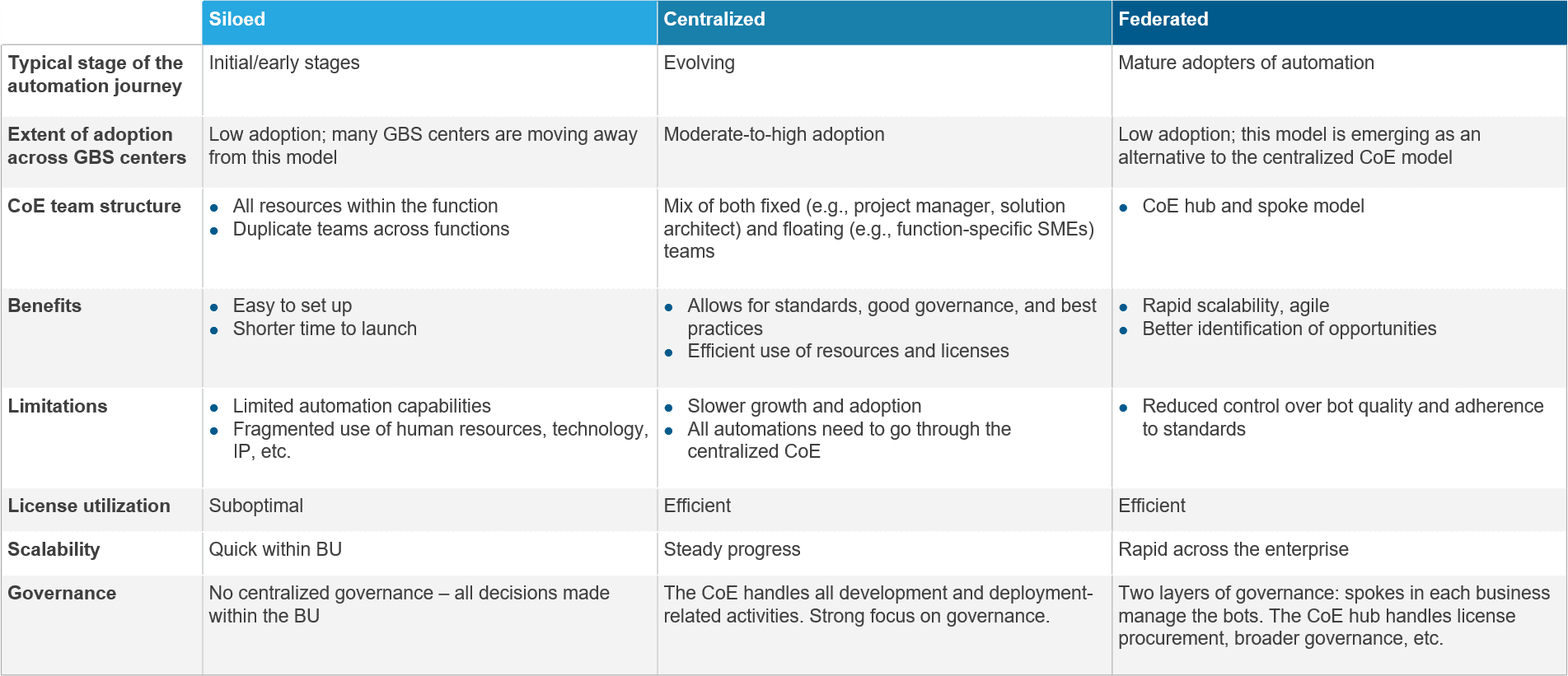 Why GBS organizations are migrating to the federated model
There are several reasons why GBS centers are moving to the federated model, as outlined below.
The federated model helps to better leverage subject matter expertise within a business unit. With bot development activity taking place within the BU, the federated model ensures better identification of automation opportunities, agile development, and reduced bot failures
The federated model leads to efficient resource usage. Centralization of support activities ensures: efficient use of resources, be they human, technology, reusable modules, licenses, etc.; standardization; and, clear guidance to individual business units
The federated model facilitates development and sharing of automation capabilities and best practices, which helps in the amassing of standardized IP and tacit knowledge important for rapid automation scaling
Federated model case study
A leading global hardware and technology firm's GBS center adopted the federated CoE model, which houses the CoE hub, in 2017. In the three years since, it has grown to over 400 bots across more than 20 business units in a wide variety of locations, and saved more than $25 million from automation initiatives. The CoE hub has also successfully trained over 1,000 FTEs from technical and business backgrounds on bot development. As a result, firm-wide enthusiasm and involvement in the GBS center's automation journey is high.
Transitioning to a federated CoE model has helped many GBS programs scale their automation initiatives rapidly. For more details, see our report, Scaling Up the Adoption of Automation Solutions – The Evolving Role of Global In-house Centers or reach out to Bharath M  or Param Dhar for more information on this topic.