Enterprises that operate in the BFSI industry are the biggest consumers of analytics services. They realized earlier than companies in other sectors how powerful analytics can be in offering targeted and customer-centric solutions, exploiting the massive amount of available data, meeting dynamic customer demands with their expectation for real-time solutions, and helping them adapt to changing business environments.
There are four different regions around the world that provide analytics services to BFSI companies: India, Asia-Pacific (APAC,) nearshore Europe, and Latin America. Each has its own unique capabilities, characteristics, and value proposition.
To help BFSI firms select the right delivery location for their specific needs, we recently completed a "Locations Insider Report" named Global Hotspots – Analytics in BFSI.
Following is a look at the findings. To add context to them, we classify analytics solutions into four types based on their sophistication and business impact, as you see here.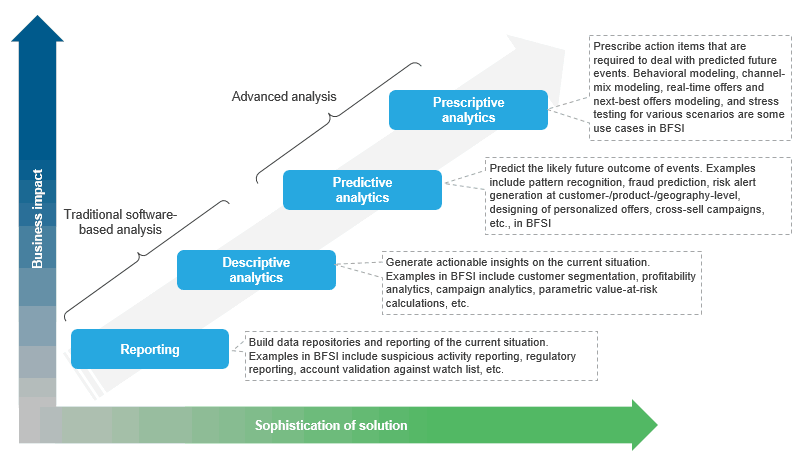 India
India is the leading delivery destination for analytics services in the BFSI industry. It has a large talent pool (more than 65 percent of the global sourcing FTEs in nearshore/offshore locations,) and offers high cost arbitrage. Because of these factors, a large number of BFSI companies have chosen to set up analytics Centers of Excellence (CoE) in key tier-1 locations such as Bangalore, Delhi NCR, and Mumbai. While both tier-1 and tier-2 locations support traditional analytics services delivery, and largely support customer, fraud, and finance risk analytics functions, advanced analytics services delivery is concentrated in tier-1 cities.
India is also seeing an uptick in start-up activity in analytics services delivery across multiple functions including customer, credit, fraud, and risk. Because these service provider start-ups can provide accelerated access to skilled resources either through partnerships or acquisitions, BFSI companies may want to factor this into their location selection strategy. In the PEAK Matrix evaluation included in our report, Bengaluru and Delhi emerged as "Leaders" because of their high cost arbitrage and significant talent availability. We identified Mumbai as a "Major Contender" due to its healthy mix of cost arbitrage and talent availability, and high maturity in traditional analytics services delivery.
APAC (excluding India)
Manila and Shanghai are the top locations in the APAC region. While services delivery is dominated by service providers offering traditional analytics services, a few locations also have a sizable shared services – or global in-house center – presence. The geography primarily supports finance and fraud risk management functions, and some companies are setting up analytics CoEs.
Nearshore Europe
In nearshore Europe, the top analytics services delivery locations are Budapest, Edinburgh, Prague, and Warsaw. While companies leverage the geography for both traditional and advanced analytics, advanced analytics services delivery for fraud and finance risk management is gaining traction, primarily due to region's availability of high-quality talent and the ability to support work in many European languages. Certain nearshore locations, such as Belfast and Edinburgh, support high-end predictive and prescriptive analytics, not only because a highly qualified workforce is available, but also because of the need for advanced processes to be in proximity with business customers. Just like India, Poland is experiencing an uptick in start-up analytics service providers.
Latin America
Latin America is an emerging destination for analytics services. One of its key advantages is its ability to provide real-time monitoring and data analysis to the North American market due to its similar time zone. BFSI companies primarily leverage key locations in the region, such as Mexico City and Sao Paulo, for traditional analytics services across risk management functions such as credit and fraud.
Because of all that's at stake, BFSI companies need to carefully evaluate locations for analytics services delivery against their specific business requirements. To learn more about the global analytics services landscape – availability of both entry-level and employed talent pool, market maturity, cost of operations across top locations, and implications for stakeholders including service providers, GICs, BFSI companies, country associations, and industry bodies – please read our recently released report, "Global Hotspots – Analytics in BFSI."