For years, India has been the epicenter of offshore technology services delivery for U.S.-headquartered enterprises. But our Market Vista Annual Report 2019 and Predictions for Global Services Delivery Locations 2019 reports show that a host of factors are driving a much closer look at Latin American countries as a destination for the delivery of IT services.
So, what's making Latin America click with companies of all sizes, including some of the world's biggest brands, like Amazon, Facebook, Google, HP, Intel, and Microsoft?
Proximity with the U.S.
The time zone differences between India and the U.S. are impeding demand for agile development. But because Latin America and the U.S. share similar time zones, the delivery and client teams can collaborate in real time.
Availability of skilled IT professionals
Due to strong government and educational support, Latin American countries are producing an ever-growing number of talented professionals with relevant, and often advanced technology skill sets, like blockchain, artificial intelligence, and machine learning.
Rise in technology start-ups
The abundance of low-cost technical talent is driving a surge in Latin American country-based technology start-ups through accelerator programs such as 500 Startups, Techstars, and Y Combinator. Investors are also betting high on tapping the potential of technology start-ups in the region. For example, SoftBank Group in March 2019 announced a US$5 billion Innovation Fund, touted to be the largest-ever technology fund in Latin America.
Less competitive intensity
Although India is far more cost competitive than Latin American countries, competition in India is increasingly intense given that it is home to more than 1,100 shared services centers and thousands of service provider delivery centers. Because there are fewer service delivery centers in Latin America, competition for talent is comparatively lower, making it easier for companies to hire the best talent.
Language proficiency
Most Latin American countries have significantly improved in English language proficiency over the years. And their Spanish language skills are valuable to the U.S. market given the large Spanish population residing in the country.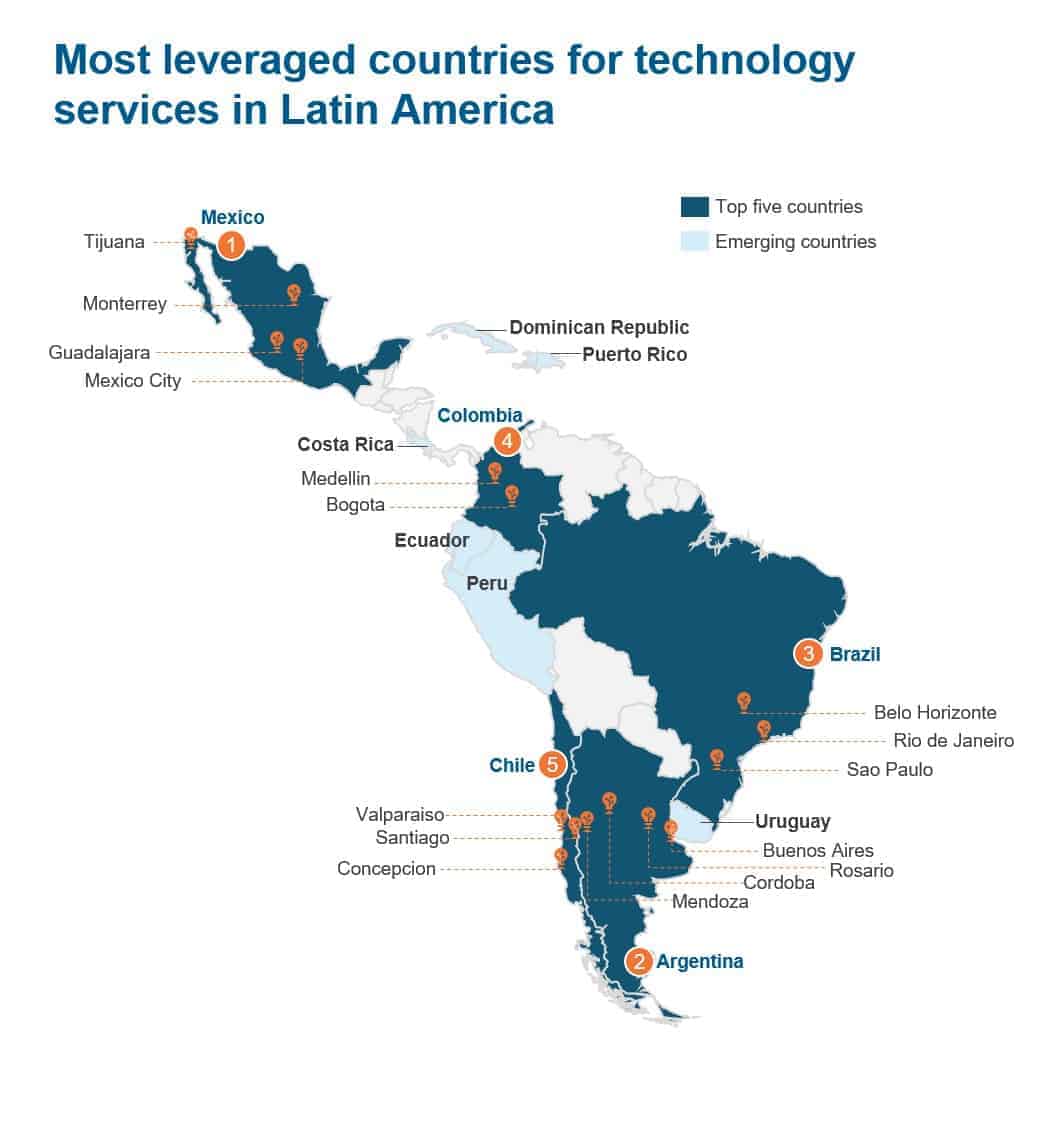 What are the top five Latin American countries doing to advance their attractiveness to technology services clients?
Mexico — #1
Passed new regulation for its FinTech sector, which is the largest FinTech ecosystem in Latin America
Established INADEM to support establishment of start-ups
Launched 500 Startups Latin America, Startup Mexico, and Startup Weekend Mexico to develop tech start-ups
Launched the world's largest free economic zone along the US-Mexico border to attract tech investments.
Argentina — #2
Passed the Entrepreneur's Law, which accelerates businesses' registrations
Launched programs such as Startup Buenos Aires and IncuBAte to support entrepreneurship
Provides free university education to everyone.
Brazil — #3
Established Start-Up Brasil, a federal program to support start-ups
Launched TechD, a public-private partnership, to fund emerging technology companies
Initiated a national plan on digital transformation, IoT, and information, communications, and cyber security strategy
Launched STEAM courses to develop a large pool of engineers and technical talent
Passed a law to hire temporary workers on a longer contract term.
Colombia — #4
Rebranded Colombia as a technology center, and offers tax incentives and a professional training program
Established a Ministry of Science, Technology, and Innovation, and a High Council for Innovation and Digital Transformation to support tech initiatives.
Chile — #5
Launched a centralized web system that allows one-day business registrations
Established Start-Up Chile to support development of start-ups and boost the local tech ecosystem
Launched a tech visa facility to help technology talent and investors acquire a visa in 15 days
Introduced a blockchain-based platform for public payments.
With their strong trade links, nearshore advantage, and growing technology talent pools, several of the Latin American countries offer a multi-pronged value proposition to enterprises seeking an IT services delivery destination.
To learn more about the region, please read our Market Vista Annual Report 2019 and Predictions for Global Services Delivery Locations 2019 reports.