When news first hit in late April 2019 of speculation around Medidata Solutions being acquired by Dassault Systèmes – a France-based software company that develops 3D design, 3D digital mock-up, and product lifecycle management software – Medidata's stock value went soaring. The deal immediately made sense. The fact that Dassault Systèmes was looking to ramp up its offerings for life sciences companies made Medidata, which we recently recognized as a Leader and Star Performer in our PEAK Matrix™ for Clinical Trials Products 2019, an attractive acquisition prospect.
Fast forward to June 2019 and the deal is done. The all-cash transaction is valued at US$5.8 billion and represents Dassault Systèmes' largest acquisition to date. It will finance the deal with a €1 billion loan, a €3 billion bridge-to-loan facility, and available cash. It's the first time the French company has resorted to external funding, which only accentuates how much it prizes Medidata as an asset.
The strategic intent behind the deal
Dassault Systèmes began focusing on the life sciences market a few years ago with the vision to improve the penetration of digital technologies in the industry. Its last life sciences-focused acquisition was that of Accelrys in 2014, which helped Dassault Systèmes establish BIOVIA, its brand for biological, chemical, and materials modeling and simulation, research, and open collaborative discovery.
With the acquisition of Medidata Solutions, Dassault Systèmes makes a statement that it is serious about achieving this vision. The acquisition will make life sciences Dassault Systèmes' second largest industry focus, after transportation and mobility. Medidata grew at a CAGR of 17 percent during 2015-2018, driven by its dominance in electronic data capture through its flagship product, Rave.
Dassault Systèmes prides itself on its 3DEXPERIENCE platform, which is meant to enhance digital collaboration in complex sectors like aerospace, infrastructure, and mobility. Dassault Systèmes now looks to extend these benefits to life sciences. By adding Medidata's clinical and commercial offerings to its own 3D experience expertise, Dassault Systèmes aims to create a platform that offers complete digital continuity to the life sciences industry, addressing complex challenges such as personalized medicine and patient-centric experiences.
Unpacking the companies' synergies
Synergy area

Dassault Systèmes

Medidata Solutions

Value proposition

Design, modeling, and visualization software, with leading capabilities for the aerospace, defense, and consumer goods industries. Dassault Systèmes now aims to bolster its life sciences division

Life sciences clinical and commercial software pure-play, with deep domain expertise and strong consulting pedigree

Coverage of the life sciences value chain

Drug discovery, manufacturing, and supply chain
Clinical and commercial operations

Key technology offerings

Design, modeling, simulation, and virtualization software
Data capture, real world evidence, advanced analytics, AI-driven insights, and operations management

Customers

Customers are mostly in the aerospace, defense, and consumer goods industries

Sizable number of European life sciences clients, including medical devices firms such as Medtronic, FEops, Novo Nordisk, and Kavo Dental

1,300 life sciences companies, three quarters of which are in America. This includes most of the Big Pharma and CRO firms
Product coverage across the value chain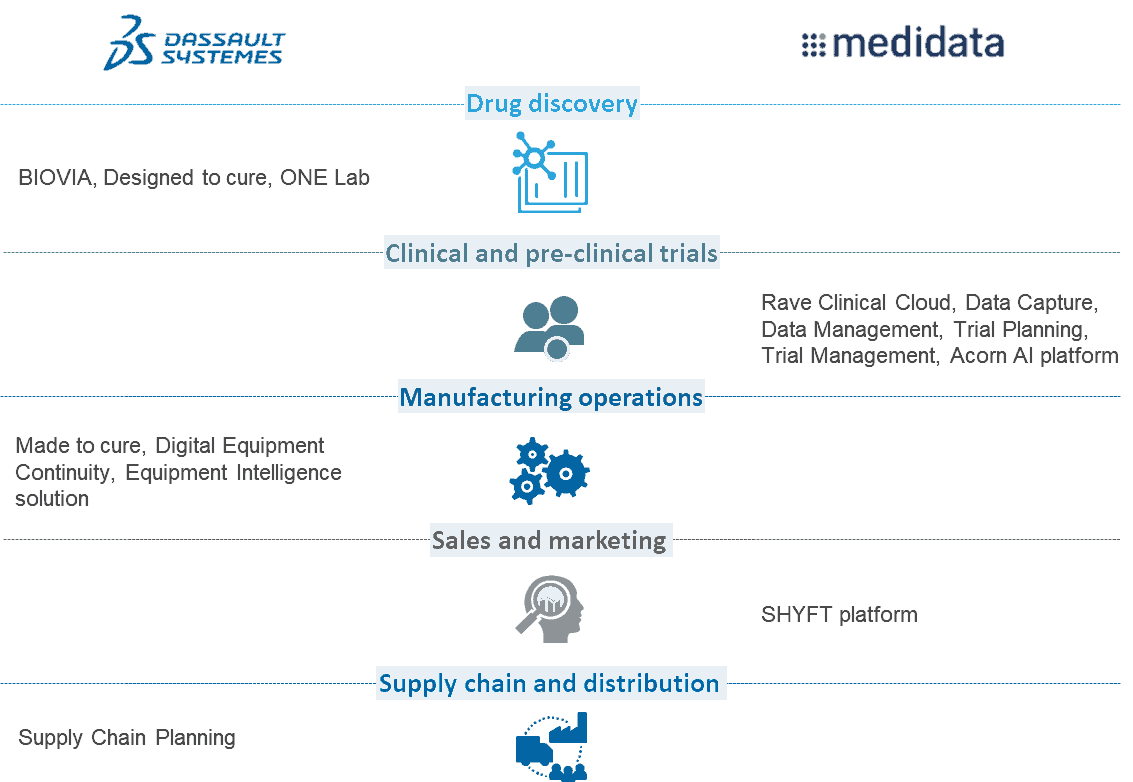 Key opportunities
Dassault Systèmes is sitting on a lot of cash. This will give Medidata the financial muscle it needs to make the right investments in talent and technology to compete with the big players like Oracle Health Sciences and Accenture.
The integration of capabilities could lead to the creation of a unique end-to-end platform for life sciences across the entire value chain. Medidata has clinical and commercial capabilities, and Dassault Systèmes has offerings for drug discovery, manufacturing, and supply chain.
Potential risks
It's not clear how the integration of Medidata's products with the broader 3DEXPERIENCE platform will take place. It could be a challenge linking Medidata's clinical trials and commercial operations solutions with Dassault Systèmes' design and visualization offerings.
Dassault Systèmes' has diversified offerings across several industries. In the long run, this may dilute Medidata's brand image as a leader and focused player for clinical trials technology.
Closing thoughts
The life sciences industry needs aggressive digitalization to realize efficiency gains and reduce the lengthy timelines between drug conceptualization and drugs reaching the market. We've seen technology vendors coming up with integrated solutions for clinical trials to help enhance trial efficiency. While the need for a platform is evident, technical debt and change management issues hinder this platform-centric vision. This is a high growth market, which is likely to attract more interest in the coming 18-24 months. More SaaS companies will need to pivot to the platform conversation to scale and remain relevant. We will be tracking this space closely.