Back in December 2017, Altran's acquisition of Aricent for US$2 billion was one of the biggest inorganic growth initiatives in the engineering services space. The acquisition helped Altran draw synergies across key verticals and strengthen its leadership position in the global engineering services space.
Fast forward just a short year and a half later to a much larger deal: Capgemini on June 24, 2019, announced its plan to acquire Altran for a cash consideration of ~US$4.1 billion and also assume Altran's financial debt of ~US$1.6 billion, which is primarily attributable to its Aricent acquisition. The transaction is expected to close by the end of 2019.
Based on our calendar year 2018 estimates, the combined entity will hold over 10 percent of the global engineering services outsourcing market and will have nearly US$1.4 billion higher revenue than its nearest competitor.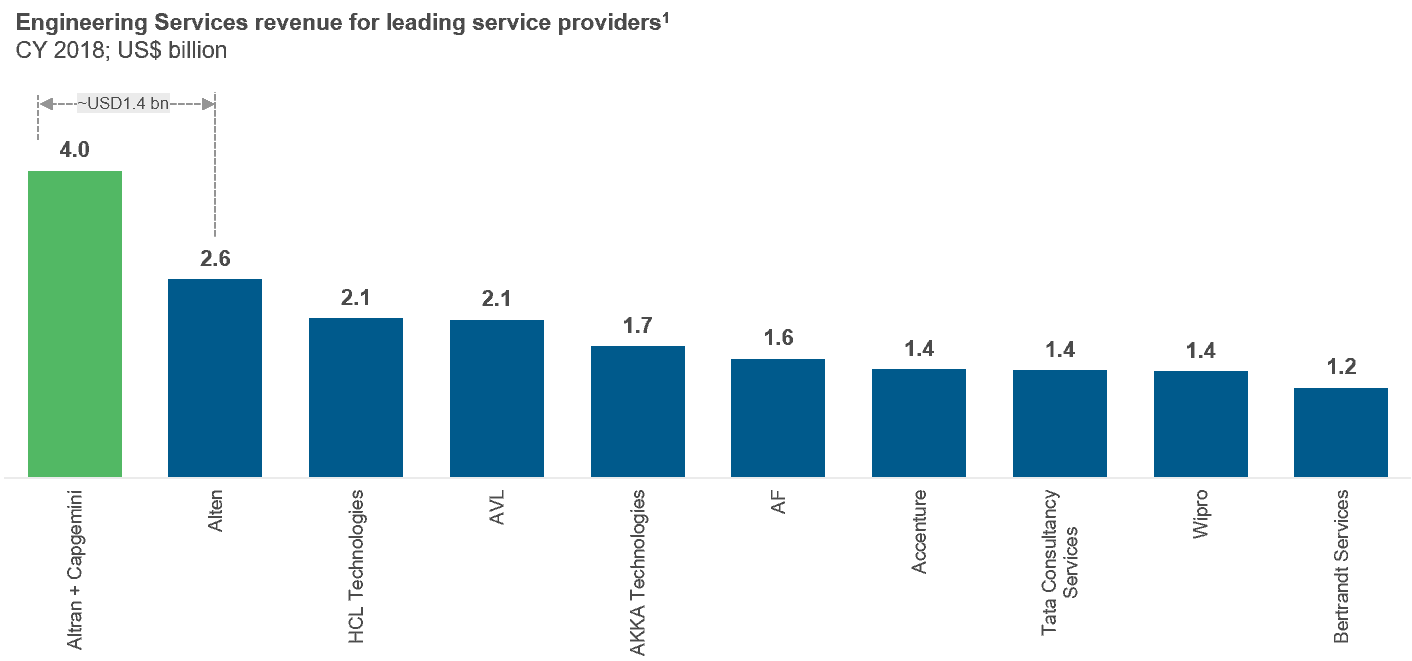 1 Includes Everest Group estimates
The acquisition reinforces the fact that the global services industry views engineering services as an avenue to offset the low headroom for growth in the IT and business process services. While players such as HCL Technologies and Tata Consultancy Services have primarily followed the organic route to drive growth in this space (both the companies have a spot in the list of global top 10 engineering services companies,) Capgemini has become the largest engineering services company with this mammoth acquisition.
The acquisition also highlights how service providers are increasingly reckoning with the need to develop capabilities to cater to the Information Technology – Operational Technology (IT-OT) integration needs of today's connected world. An IT-OT play helps service providers demonstrate capabilities across multiple value elements and capture a larger share of enterprise spend.
What this acquisition means for Capgemini
Altran reported year-on-year growth of 27.1 percent for calendar year 2018, and its organic growth stood at 8 percent. Capgemini will certainly benefit from Altran's robust portfolio growth. But it stands to gain more benefits:
Top spot in the engineering services industry: The combined entity will be the undisputed leader in engineering services, with over US$4 billion in engineering services revenue, and ~54,000 professionals
Enhanced capabilities across key verticals: With Altran's stronghold in the automotive, aerospace, electronics & semiconductors, medical devices, and software products spaces, and Capgemini's strength in sectors including manufacturing and energy and utilities, the combined entity will have a leadership position across the majority of engineering verticals
Asset and infrastructure dividend: Altran has developed numerous labs, solutions, innovation centers, etc., that will add rich depth and breadth to Capgemini's capabilities
Enhanced value proposition: Capgemini will not only be able to cross-sell its enhanced IT-OT value proposition to Altran's existing, top R&D-spend clients – including six of the top 10 Independent Software Vendors (ISVs) and all of the top five automotive Original Equipment Manufacturers (OEMs) –– but also to its own engineering-heavy verticals
Enhanced nearshore delivery capabilities: Altran has a sizeable delivery presence in Eastern Europe, which is a hub for high-quality engineering talent, and a significant delivery presence is viewed as a differentiator in the engineering services space
Access to Altran's hand-picked portfolio of companies: Capgemini will be able to enhance its capabilities in niche areas including design and cyber security through Altran's previous acquisitions of companies like Frog Design and Information Risk Management (IRM.)
What it means for Altran
In its mid-2018 "The High Road, Altran 2022" plan, Altran presented the key objectives it aimed to achieve by 2022:
Compound Annual Growth Rate (CAGR) of 6.5-7 percent (organic) during 2017-2022
25,000 engineers in near/offshore locations, including India, up from 16,000 in 2018
Momentum in high-growth segments such as ISVs, electronics, automotive, and medical devices
Leadership in North America, while pursuing selective growth in the APAC region
Complete integration of Aricent by 2020
With Capgemini coming into the picture, the growth plan for Altran will likely be redefined. Nonetheless, assessing how Capgemini impacts the objectives Altran's leadership laid down is still worthwhile.
While Altran has been managing steady growth on its own (8 percent year-over-year organic growth in calendar year 2018,) integration with Capgemini will help generate greater exposure to clients and accelerated market growth in North America. It will also accelerate Altran's delivery expansion in offshore locations.
As a downside, Altran will be integrating with Capgemini – which could come into play as soon as early 2020 – while it continues to attain full synergy with Aricent. This multi-faceted integration will require meticulous planning and execution to ensure success. It may result in increased attrition among the talent Altran acquired from Aricent.
Cues for the broader engineering services outsourcing industry
This acquisition further enhances the dominance of Europe-headquartered firms on the leaderboard of the global engineering services industry. Further, once the acquisition is complete, Capgemini – as the largest engineering services provider – will have developed a sizeable offshore delivery presence and will be capable of going to market with an optimum combination of four key factors: capabilities, scale, client proximity, and cost-effectiveness. Offshore-heritage service providers will need to step up their game to continuously invest in building and enhancing capabilities for new and emerging areas.
We expect the inorganic growth wave to continue in this space. While it is unlikely that we will soon see another acquisition of this scale, we expect both large and mid-sized players to explore smaller acquisitions that address their unique objectives. While large service providers will flex their financial muscle to gain market share and niche capabilities, mid-sized service providers will look to build adjacent capabilities. And when this happens, both the providers and their clients will win.