As the global banking industry continued to recover through 2013, several service providers ramped up their scale, invested in innovative technologies, and built a global delivery footprint. These initiatives have notably expanded the Major Contenders category on Everest Group's Banking application outsourcing (AO) PEAK Matrix™. Indeed, three service providers (ITC Infotech, Luxoft, and Mindtree) joined this group from the Emerging Players category.
While the market continued to be dominated by select global and offshore majors (Accenture, Cognizant, IBM, and TCS), a number of relatively smaller and specialist players successfully created a niche for themselves by catering to the specific needs of banking AO buyers. These service providers partnered with banks, understood their business, took risks by offering performance-linked pricing, and successfully demonstrated capabilities to offer them innovation, to create differentiation in the market.
Below are some of the key highlights of this year's banking AO PEAK assessment: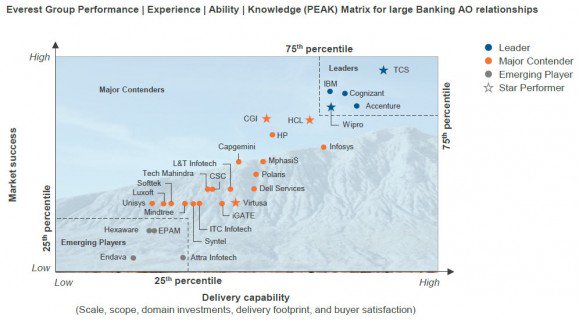 The Banking AO Leaders (Accenture, Cognizant, IBM, and TCS) continue to hold solid position on this year's PEAK Matrix. While Wipro entered the Leaders quadrant this year, posting strong ACV growth for Banking AO services, it still lags behind the other Leaders on capability and market success.

The Leaders continued to hold the highest market shares in terms of ACV and number of deals across all geographies. Strong execution and delivery, ability to offer thought leadership, and consistent investments in developing innovative solutions for BFSI vertical were some of the key areas of strengths that led to their consistent growth in the Banking AO market. Their future success will be driven by their ability to explore new pricing models (gain-share) and expansion of nearshore and onshore delivery presence in order to stay ahead of the competition.

The Major Contenders consisted of providers across all categories: global majors (Capgemini, CSC, Dell Services, and HP); offshore majors (HCL, and Infosys); regional players (CGI, Luxoft, Softtek, Unisys, and Virtusa); and tier-2 Indian players (iGate, ITC Infotech, L&T Infotech, Mindtree, MphasiS, Polaris, Syntel, and Tech Mahindra). Service providers in this category were willing to take risks, and were more open to exploring new outcome-based models to create differentiation in the market. While these providers have built credible scale, they need to significantly expand their nearshore presence, focus more on innovative solutions, and invest more in sales/account management teams to further improve their market positioning.

The Emerging Players consisted of select regional and tier-2 Indian players. These providers must continue to expand their Banking AO scale, invest in emerging technologies, and demonstrate ability to offer innovation/improvements in clients' business areas to break into the Major Contenders category. Their success will be driven by their ability to move beyond traditional AO work (application development, maintenance, and testing) and build capabilities to support transformation initiatives of banking AO buyers.
While each category on the PEAK Matrix has unique strengths and challenges, one key theme for all companies was the declining share of pure AO deals, which is in line with the growing trend of integrated IO and AO deals. Additionally, as banks continue to focus on managing regulatory compliance and enhancing the customer experience, all providers have begun to look more seriously at the opportunities in the regulatory and risk management, analytics, and mobility spaces. While analytics was the dominant theme for the Leaders and Emerging Players categories, Major Contenders announced the greatest number of contracts in the regulations and risk management area.
Overall, 2013 was an interesting and eventful year for banking AO services, and 2014 promises to be every bit as exciting! For more information, download a complimentary preview of "IT Outsourcing in Banking – Service Provider Landscape with PEAK Matrix™ Assessment 2014."
---
Photo credit: Pranav Yaddanapudi