Sarah Burnett, veteran of NelsonHall and Ovum, joins to lead Europe practice from London office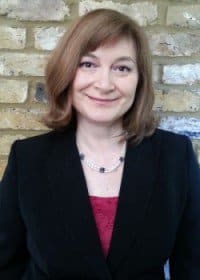 DALLAS, May 1, 2014 — As demand for outsourcing continues to grow in Europe, boosting the market, Everest Group has hired industry veteran Sarah Burnett to expand its European presence.
Research from Everest Group, an advisory and research firm on global services, indicates that Europe's share of new outsourcing contracts increased from 43 percent in Q1 2013 to 52 percent in Q4 2013. Furthermore, the share of emerging European geographies is steadily increasing from 27 percent in Q1 2014 to 39 percent in Q4 2014. (More in Everest Group Market Vista™ reports.)
This broad trend has led Everest Group to expand its London office with the addition of Sarah Burnett to lead the firm's European practice. As vice president, Burnett brings to Everest Group more than 20 years of experience in the information technology and business process industry, having served in a variety of capacities, including in-house practitioner, outsourcing provider and research analyst.
"Sarah's experience and recognized industry thought leadership are precisely the ingredients we were looking for to expand the depth of services we can provide to our clients in this growing geography," said Peter Bendor-Samuel, chief executive officer, Everest Group. "Her keen insight into service provider capabilities and her understanding of the evolving European market are the perfect complement to the established research base Everest Group has developed in the European market over the past decade."
Before joining Everest Group, Burnett spent three years as a research vice president with NelsonHall where she had global responsibility for research programs covering government business process outsourcing and IT infrastructure management, including data centre outsourcing and cloud.
"The European outsourcing landscape has steadily improved during the past few quarters, thanks to economic recovery and improving business confidence," said Burnett. "It is imperative for the buy-side to make informed decisions, and it is equally important for service providers to innovate, enhance and localise their offerings for the European market to remain competitive. As a result of these and other factors, we see a rapid rise in demand for reliable, fact-based and independent analyst expertise, research and consultancy services in the region."
Burnett has worked in the information technology industry for more than 20 years, often in charge of implementation and service delivery, either directly for public sector and commercial organizations, or on their behalf as an outsourcing service provider. Prior to joining NelsonHall in 2011, she led the government technology practice at Ovum. Burnett is often quoted in and contributes to industry media. Information Management named her one of 17 women in technology to follow on Twitter (@SarahBurnett).
Recent and Upcoming European Events for Everest Group
On 24 April, Everest Group hosted the Global Services Forum at The Rag, Army and Navy Club in London. The event, designed for and attended by service providers, focused on how the European sourcing market is rapidly evolving and how providers can meet the changing demands of enterprises.
On 14 May, Eric Simonson, managing partner – research at Everest Group, will speak at the 14th Annual European Shared Services & Outsourcing Week in Dublin. A frequent speaker at SSON events, Eric will moderate a panel discussion on location optimisation in growth markets, a trend in which Everest Group has particular research and consulting expertise.