Transform with an RPA Implementation
Reject the RPA Myths, Embrace the Potential
Are you positioning your company for real success in RPA (Robotic Process Automation)?
Increasingly, a number of companies are doing just that. They are moving out of the RPA "pilot" stage and beginning to reap real, lasting value from RPA implementations.
Everest Group surveyed 52 enterprises in 10 industries in various stages of RPA adoption, all with more than US$1 billion in revenue, 10 with revenue between $5 and $10 billion, and 23 with revenue greater than $10 billion.
As the chart below shows, nine of those companies are substantially farther along the path to achieving the fullest value from robotic process automation. These are the nine in the upper right that we have designated as Pinnacle Enterprises™.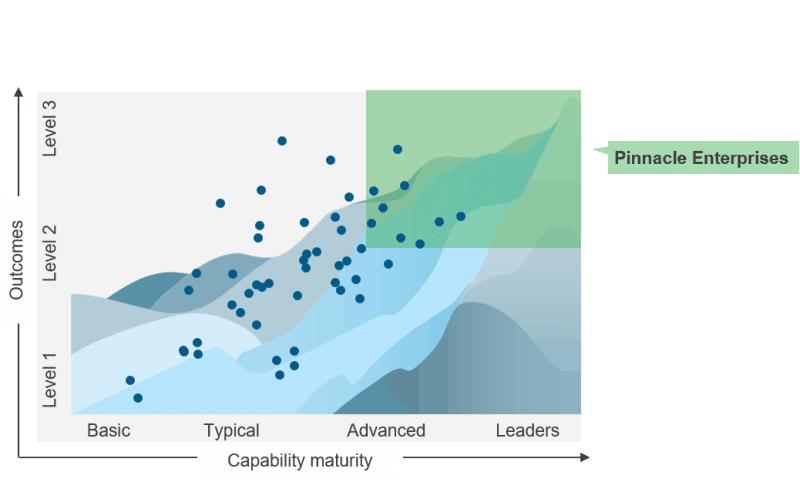 Where would your company's "dot" land? Everest Group can help you find it in 30 days
True, RPA adoption is still in early stages at most companies, and much value remains unrealized even in the most mature RPA implementations. But even small advantages seized early can make a big difference today and create the foundation for even greater value in the future.
We found three significant differentiators in the RPA activities of the Pinnacle Enterprises™ versus the strivers. Interestingly, these differentiators repudiate three persistent RPA myths.
Before we address those myths versus the reality, let us specify how Everest Group measures RPA adoption.
RPA Adoption Measurements
To qualify as Pinnacle Enterprises™, the nine companies outperformed the strivers on three measures: business performance, operational impact, and costs.
In terms of business performance, the Pinnacle Enterprises™ share a broader set of significant business impacts:
The Pinnacle Enterprises™ also demand more operational benefits of their RPA implementations:
As for cost impact, RPA implementations enables the Pinnacle Enterprises to:
RPA Differentiators:  The Myths and the Realities
As three myths have gained currency around RPA, they have promoted false expectations and complicated execution – ultimately circumscribing its potential. By repudiating these myths, our research sheds light on how enterprises can reposition their RPA adoption to reap its greater rewards.
RPA Myth #1 – RPA adoption is about cost reduction, especially through layoffs.
Reality: Pinnacle Enterprises see RPA as transformational, leading to resource reskilling/upskilling.
It is true that if RPA is undertaken with nothing but raw cost reduction in mind, most of RPA's potential will be squandered. But Pinnacle Enterprises™ expect more and get more. They achieve:
50% improvement in operations metrics
39% improvement in SLA compliance
100% find their employees to be happier
l8% report significant improvements in customer performance
This RPA myth has also stoked a pervasive fear that "robots will replace people" – that effective RPA adoption can be achieved only in concert with massive layoffs. Even among leaders who know better, the public relations impact of this myth leads them to proceed with excessive caution and conflicted motivation.
In fact, the nine RPA Pinnacle Enterprises, and strivers to a slightly lower yet still predominant extent, showed a significant focus on talent management:
Pinnacle Enterprises reskilled, upskilled, or redeployed 98% of employees affected by RPA (versus 83% of the strivers)
By envisioning RPA as transformational, Pinnacle Enterprises position themselves to achieve RPA's greatest benefits. For the Pinnacle Enterprises versus the RPA strivers:
RPA Myth #2: Federating RPA implementations drives RPA innovation and ROI.
Reality: Pinnacle Enterprises centralize RPA adoption to achieve scale and (ROI?).
Expectations feed outcomes. If RPA is viewed as a series of disconnected technical projects, the separate implementers sacrifice opportunities. They overlook potential to redesign processes to optimize RPA and to design how its human workforce can best engage with its digital workforce. Carrying out their work in siloed groups, they cannot foresee or manage RPA's organizational implications.
In keeping with their broader view of RPA's impact, Pinnacle Enterprises establish centralized implementation approaches to help in scaling RPA more quickly.
In centralizing their RPA initiatives, the Pinnacle Enterprises™ position themselves for RPA success in the following ways:
RPA Myth #3: RPA Can Be Deployed by Business Units, without IT Collaboration.
Reality:  Pinnacle Enterprises collaborate closely with their IT organizations and service providers.
RPA vendors sometimes position their wares as easy for business units to implement, thus skirting the scrutiny of IT. Years of decentralizing technology implementations have emboldened business units to take that independent path.
But our research shows that RPA implementations uncoupled from IT shortchange the enterprise on scale, efficiency, compliance, security, standards, and pure IT know-how.
Instead, Pinnacle Enterprises™, recognizing they need broader RPA skills and resource levels, augment their IT organizations with third-party IT service providers to support or jointly lead RPA implementations. They see IT as the logical place for the full scope of desired expertise to help them: select and own RPA technology, manage and integrate it, provide supporting infrastructure, mitigate risk and security implications, standardize tools, ensure conformance with enterprise performance standards, and sync bots with application and infrastructure changes.
In the Pinnacle Enterprises™:
Summary
It is not too late – far from it. With RPA adoption still in the early stages, these gaps need not be predictive for the long term, and even the Pinnacle Enterprises™ still have a long journey to achieve full RPA benefits.
If the enterprises now trailing in RPA outcomes can quickly recognize the power of these differentiators and work to alter their course, they can likewise reap the anticipated benefits of their RPA efforts in the coming months and years.
If you would like to learn how your RPA adoption compares to the Pinnacle Enterprises™ –and how you can improve it – Everest Group can show you.
Pinnacle Assessment™ Process
By engaging in an assessment of your readiness for digital transformation, you will gain an understanding of:
Your level of readiness to either drive or be a major player in the digital transformation of your enterprise as compared to others who are achieving superior outcomes
Your highest potential areas for improvement
Pinnacle Practices™ used by high performers that could accelerate your readiness for the digital transformation
3-Step Process
Complete the same survey completed by participants in the original Pinnacle Model™ study – completed online in less than 20 minutes
Everest Group prepares an assessment of both the outcomes you have been able to achieve and your maturity level
Senior leaders participate in a 2-3 hour workshop with Everest Group to review the assessment and identify high priority next steps