Next-Gen Infrastructure Transformation

As you plan the next moves for your IT infrastructure transformation, are you reaching high enough?
Are you ensuring that it facilitates and accelerates your digital transformation? Are you aware of infrastructure practices that significantly advantage top performers? Are you positioned to employ them?
These are pressing questions for business and IT executives as they transform their IT infrastructure at no small cost in management time and expense.
Everest Group recently concluded a study on infrastructure transformation trends to understand strategies that produce the best business outcomes. We surveyed 102 senior IT executives in the U.S. and Canada responsible for IT infrastructure across 10 industries, 48 with revenue over $5B, 14 between $3B and $5B, 31 between $1B and $3B, and 9 less than $1B.
The study reveals substantive differences in the infrastructure strategies of the top-performing enterprises – 17 out of the 102 that were designated as Pinnacle Enterprises™ – versus the other enterprises surveyed.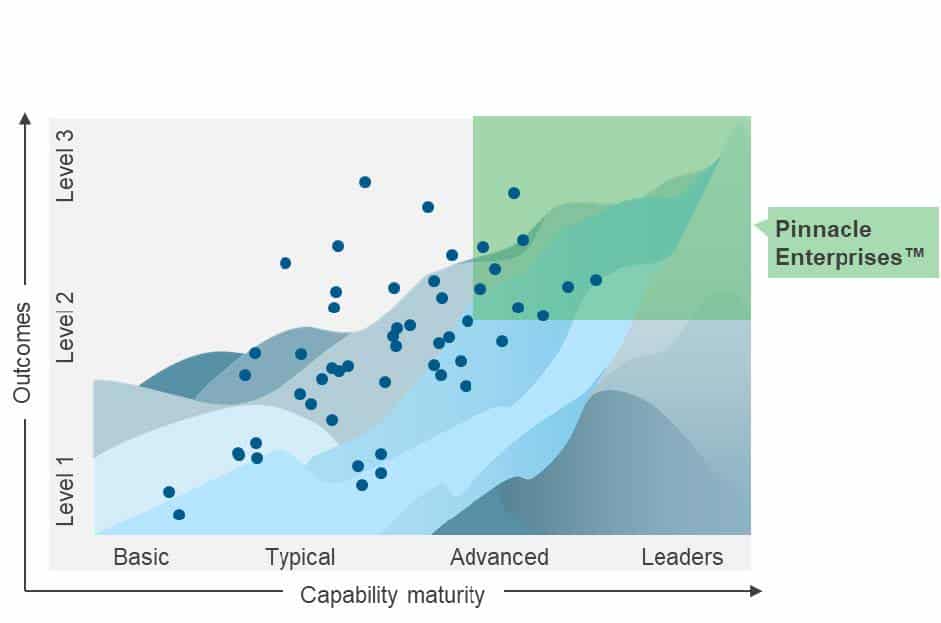 Where would your company's "dot" land? Everest Group can help you find it in 30 days
All enterprises hoping to compete in the digital transformation era have a common imperative: each must find and deploy the right infrastructure strategy even while they simultaneously leverage myriad transformational technologies. Data analytics, Internet of Things (IoT), automation, cybersecurity, and more – not only are they all essential to superior performance in the new era, but they all depend on infrastructure advances that deliver new capabilities cost-effectively and that free up IT talent.
Why Next-Gen Infrastructure Transformation?
Next-generation infrastructure is not about moving everything to a single public cloud environment. Nor is it about abandoning all legacy on-premise platforms. It is not about identifying and adhering to a single platform decision for the entire origination.
Next-generation infrastructure is about developing a system of infrastructure platforms, in a cost effective and secure manner, that meet the higher demand, speed of data, and continuously evolving needs of the business.
Using Next-Generation Infrastructure Drives Demonstrable Value
The study found that Pinnacle Enterprises outperformed the others surveyed in terms of achieving their strategic, operational, and cost objectives.
Specifically, relative to their strategic objectives, Pinnacle Enterprises leveraged infrastructure to directly impact their companies' product/service offerings:
Fully 100% of the Pinnacle Enterprises employed infrastructure strategies that enable the development of differentiated product/service offerings, versus 64% of the others
100% of Pinnacle Enterprises increased the scalability of their product/service offerings, versus 66% of the others
Relative to their operations, Pinnacle Enterprises have materially progressed key operational goals like security, productivity, and app rationalization:
100% of Pinnacle Enterprises improved the productivity of non-IT employees, versus 54% of the others
100% of Pinnacle Enterprises improved their security capabilities and ability to support business continuity and disaster recover, versus 65% of others
Relative to cost, Pinnacle Enterprises consistently deliver significant cost savings, despite increasing demand and complexity:
24% (compared to 5% of others) of the Pinnacle Enterprises achieved cost savings of >20% and another 41% (compared to 24% of others) achieved saving between 11 and 20%.
The chief areas of cost savings were the elimination of data centers (22% of the Pinnacles Enterprises versus 7% of the others) and lower hardware/software currency-related costs (19% for the Pinnacle Enterprises versus 9% for the others)
How Do You Attain Transformation Success?
How did top performers achieve these better outcomes? In three main ways: They focused on business objectives over pure cost reduction; they maintained a steady focus on continuous IT modernization; and they made sophisticated use of multi-cloud environments.
Focus on business objectives
While cost savings are a predictable and significant benefit of transitioning from an in-house infrastructure to a cloud infrastructure, top performers recognize that cost savings are secondary to their primary focus on business objectives.
Shifting to cloud infrastructure lets enterprises free up their IT talent to work on other projects, including product and service innovation. The move:
Offers them flexibility to quickly ramp up and down cloud usage as their needs change. It provides them speed – not just in application performance but also in faster execution after decisions are made
Can make their products and services more scalable
Is a component of their environmental objectives
Facilitates absorbing acquisitions by making it easier to connect networks and data streams.
Between 82% and 100% of Pinnacle Enterprises focus their cloud strategies on business objectives.
Emphasis on continuous IT modernization
While digital transformation is top of mind for most organizations, the best performers understand the importance of continuously modernizing their IT organizations while the transformation unfolds over time. Maintaining this focus can be a challenge. For many enterprises, most of the IT budget goes to just maintaining what is already in place, and too often the business-critical services are reliant on legacy hardware, software, and applications that are reaching obsolescence or have become excessively costly to maintain.
Top-performing enterprises further understand that IT modernization requires a comprehensive approach involving not just infrastructure but also applications, systems, and services, and it can take the form of consolidation, virtualization, and/or migration. By keeping a steady focus on modernizing IT infrastructure, they can increase productivity, lower costs, and improve reliability and security.
The gap between the surveyed enterprises with advanced IT modernization practices in place and those without is starkly significant on several areas of real impact.
Sophisticated users of cloud and multi-cloud environments
In the interest of simplicity, early cloud adopters tended to opt for a single cloud environment. However, over time the advantages of a multi-cloud environment – a mix of public and private cloud, SaaS, and PaaS, including multiple vendors – have become evident.
The multi-cloud environment allows enterprises to separate workloads into different environments that match the work's specific needs. It gives them the flexibility to seamlessly shift workloads across platforms as circumstances change, reduces their dependence on any one vendor and provides negotiating leverage, and offers business continuity in case of a disruption.
Our study shows that rather than seeking a single cloud option, top performers make sophisticated use of multi-cloud environments.
Summary
Infrastructure has moved out of the back office into the front office to take its place as a key component of your business strategy and your competitive positioning. Today and for the future, your next-generation infrastructure transformation must serve as a critical, leading enabler of both.
That means demanding more from your infrastructure on every count. It means ensuring that future infrastructure decisions throughout your enterprise are driven by business objectives. It means executing a comprehensive IT modernization strategy with your ultimate digital transformation in mind. And it means maintaining a flexible, fluid, multi-cloud environment with the changing needs of your business front of mind.
If you would like to learn how your next-generation infrastructure strategy compares to the Pinnacle Enterprises and how you can improve it, Everest Group can show you.
Pinnacle Assessment™ Process
By engaging in an assessment of your readiness for digital transformation, you will gain an understanding of:
Your level of readiness to either drive or be a major player in the digital transformation of your enterprise as compared to others who are achieving superior outcomes
Your highest potential areas for improvement
Pinnacle Practices™ used by high performers that could accelerate your readiness for the digital transformation
3-Step Process
Complete the same survey completed by participants in the original Pinnacle Model™ study – completed online in less than 20 minutes
Everest Group prepares an assessment of both the outcomes you have been able to achieve and your maturity level
Senior leaders participate in a 2-3 hour workshop with Everest Group to review the assessment and identify high priority next steps