Digital Transformation Readiness

Assessing your Digital Transformation Readiness
10 Percent of CIOs and their IT Organizations Are Transformation Ready. Are You?
Is your IT organization ready to digitally transform your enterprise?
According to our research, there's a 10 percent likelihood that you and your IT organization are ready to reinvent your enterprise through digital technology that dramatically alters your customers' experience and drives true business transformation.
As the chart below shows, of the 219 enterprises we surveyed, only 21 demonstrated superior digital transformation readiness – the 21 in the upper right designated as Pinnacle Enterprises™ – those companies that are achieving superior business outcomes because of their advanced capabilities.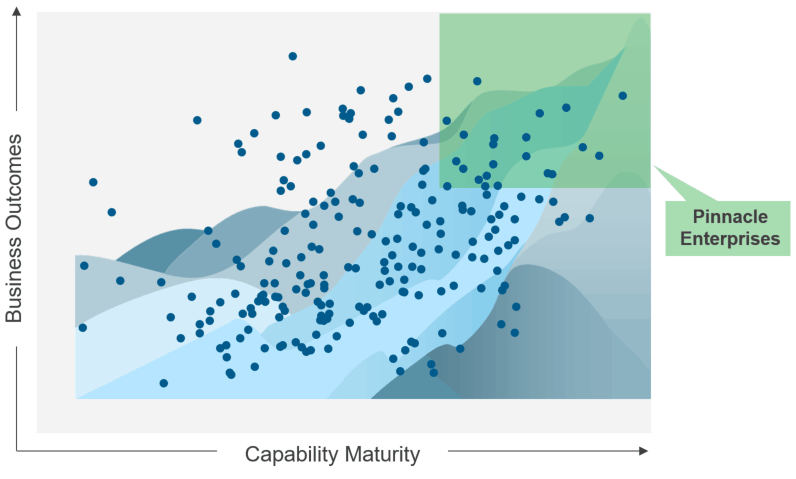 Where would your company's "dot" land? Everest Group can help you find it in 30 days
A quick caveat: Clearly, preparing for digital transformation is a journey, not a static either/or condition. But here's why we are on safe ground in implying an enterprise is either ready or it is not: Those 10 percent Pinnacle Enterprises aren't categorized as such by small margins but by margins as vast as any we have encountered in our experience. The gaps are large enough that we can confidently say some are transformation ready, others are not. For the latter, the journey is there for the taking, but they are well short of the starting line.
Why "Readiness"?
Why do we pose "readiness" as the key predictor of digital transformation success? Because digital readiness depends on a full complement of a variety of prerequisite investments and conditions. These days virtually all CIOs view digital transformation as a top priority. But many do not recognize how many are the prerequisites and therefore underestimate their unreadiness.
Everest Group has identified the perquisites for creating those conditions, through research and through consultative engagements with CIOs making their digital transformation a competitive advantage.
Readiness Drives Demonstrable Value
There's another answer to "Why Readiness?" Our research says that digital readiness spells the difference between CIOs/IT organizations that drive measurable value versus those that keep things running.
The 21 Pinnacle Enterprises are reaping pure, competitive value by being prepared for digital change. Their IT organizations are having direct impacts on their companies' strategic goals, business performance, and costs. They are doing what all successful CIOs will have to do to lead the coming business transformation – they are adding real value.
 Just a few compelling examples of the outsized outcomes:
In 86% of the Pinnacle Enterprises, the IT organization enabled the enterprise to serve a new market or customer segment (versus 43% of the unready)
In 85% of the Pinnacle Enterprises, the IT organization supported significant growth of current products/services (versus 33% of the unready)
Fully 95% of the Pinnacle Enterprises increased employee productivity between 10 and 30% (versus 54% of the unready)
Are You Ready for Digital Transformation?
After surveying IT Leaders at more than 200 companies, we have insights to help you succeed at transformation. Pulling from this analysis, Partner Cecilia Edwards describes the three core distinctions between Pinnacle Enterprises and the rest of the pack. These include:
Overall alignment with their business
Ability to support and drive innovation
Focus on enterprise outcomes instead of just IT outcomes
The Ready and the Not-Ready
So, what are the key differentiators between the Pinnacle Enterprises and the unready? Let's highlight some of our most significant findings in our digital transformation study.
Business-IT Alignment
The ability of the CIO to keep the IT team aligned with the business is paramount.
Centralized IT control: The central versus distributed IT pendulum is about to complete its arc again. For years, "rogue IT" flourished as businesses grew disillusioned with IT's responsiveness and innovation. Now, the growing sophistication of technology has the businesses recognizing the high cost and risk of rogue IT and returning control to IT. Fully 95% of the Pinnacle Enterprises are proactively reorganizing for central control (versus 46% of the unready)
Favorable to outsourcing: As the digital transformation creates an IT skills shortage and stiff competition for the best, Pinnacle Enterprises proactively seek out more opportunities to outsource non-core activities to low-cost environments. They can dedicate their higher cost resources to high-value work – which in turn improves their ability to retain the best resources. 81% of the Pinnacle Enterprises have a high outsourcing profile (versus 32% of the unready)
Collaborative culture: There's no denying it – this obligation of leaders is at once among their most important and challenging. Ensuring cross-functional collaboration across a massive, and now evolving, organization takes more time and attention than many CIOs are accustomed to devoting to it. The fact that it has not traditionally been an essential skill for CIOs makes it an even greater differentiator for the digital transition – 95% of the Pinnacle Enterprises (versus 58% of the unready)
Support for Innovation
For many companies, the challenge for IT is to make a dramatic shift from supporting operations to supporting real, high-value innovation – a significant shift of focus and culture.
Organized for innovation: This involves a major organizational component, including knowledge sharing so that innovation unfolds swiftly and efficiently. Fully 100% of the Pinnacle Enterprises invest according, (versus 41% of the unready)
Invested in experimentation: The Pinnacle Enterprises are also committed investors in innovation labs for prototyping (81% versus 36%), digital studios for new product development (71% versus 27%), and innovation funds to support start-up activities (76% versus 35%). Why do they matter? Because it shows they understand the need for ongoing experimentation to achieve innovations that deliver value, instead of being a slow adopter of next generation solutions that have already been proven
Focus on Business Outcomes
Emphasizing again that digital transformation is not a technology event but a business transformation opportunity, Pinnacle Enterprises sustain a focus on outcomes.
The Customer Experience: One of the most common and urgent goals of today's companies is "improving the customer experience," and one of the greatest tools for doing so is the insightful use of analytics. 81% of the Pinnacle Enterprises use analytics for that purpose (versus 40% of the unready).
Speed and Responsiveness: IT organizations have long been focused on using technology to contain costs, but now they have become skilled at using technology to respond more quickly to the market. 81% of Pinnacle Enterprises use technology to speed their execution (versus 38% of the unready).
Summary
Just as in a race, digital transformation readiness depends on a multitude of components. Not just being the fastest, committing to the best training program, getting out of the blocks quickest, or knowing the course, but bringing all the components together seamlessly for the best performance.
And as in a race, digital readiness is predictive. Pinnacle Enterprises are in a superior position to outperform their competitors on every aspect of their digital transformation.
If you would like to learn how you compare to the Pinnacle Enterprises –and how you can improve your own readiness –Everest Group can show you.
Pinnacle Assessment™ Process
By engaging in an assessment of your readiness for digital transformation, you will gain an understanding of:
Your level of readiness to either drive or be a major player in the digital transformation of your enterprise as compared to others who are achieving superior outcomes
Your highest potential areas for improvement
Pinnacle Practices™ used by high performers that could accelerate your readiness for the digital transformation
3-Step Process
Complete the same survey completed by participants in the original Pinnacle Model™ study – completed online in less than 20 minutes
Everest Group prepares an assessment of both the outcomes you have been able to achieve and your maturity level
Senior leaders participate in a 2-3 hour workshop with Everest Group to review the assessment and identify high priority next steps