Reimagining Enterprise IT Services Sourcing

Driving Business Value in the Digital Age
With the digitization wave disrupting and redefining today's businesses, the role of enterprise IT, and consequently that of the IT Strategic Outsourcing and Vendor Management (SO&VM) function has become more critical than ever before.
As enterprises ramp up their digital transformation initiatives, the IT SO&VM function faces the onerous task of establishing and orchestrating an IT services vendor portfolio that can help the enterprise navigate the proverbial IT maze and fulfill strategic business objectives.
However, this is clearly easier said than done from an strategic outsourcing & vendor management function standpoint. Current enterprise satisfaction with their incumbent IT service providers stands at an all time low – 54% of all enterprise discussions conducted by Everest Group over 2017 (with companies nominated as reference clients by service providers across multiple PEAK Matrix™ evaluations of Everest Group) expressed dissatisfaction with IT service providers.
A careful examination reveals that a large part of the enterprise dissatisfaction with providers is associated with a perceived lack of innovation and business value within the IT services engagements. While enterprises point out that service providers are largely at fault for this phenomenon, Everest Group's research suggests that the fundamental challenge lies in the sourcing model and associated practices itself.
The current IT services sourcing model is designed with scale and cost effectiveness as the primary objective function and vendor selection/categorization premise. However, new age IT services delivery requires service providers to be properly incentivized, and equipped with sufficient enterprise context in order to drive business value from IT.
Evidently, IT SO&VM functions need to fundamentally reimagine the way the sourcing model is designed, and redefine how vendor rationalization, selection, and management processes are conducted, including:
Imperatives for enterprise IT in today's digital world
Limitations of the current IT services sourcing model
Introduction to a reimagined IT services sourcing framework to drive business value
A beginners guide for adopting the reimagined sourcing framework
Broad recommendations around dealing with the evolving IT services sourcing landscape.
Enterprise IT is at an inflection point
Everest Group take:
In today's digital world, the value of enterprise IT is being defined by its ability to accelerate time to market, foster business innovation, and help drive competitive advantage.
In parallel, the quest for ongoing services cost reduction and resilience is pivoting to
a "technology-first, automation-led" modernization approach, given the maturation of arbitrage-led models. It is imperative that enterprises strike an optimal balance between their business transformation and IT modernization initiatives to maximize business value from IT.
Business value as the evolving IT objective function
The role of enterprise IT is undergoing a sea change, with businesses across the board being disrupted and redefined by the rapid digitization wave. IT has now evolved from being a mere cost center to a critical business enabler – in fact, about 60% of enterprises have prioritized IT services agility and flexibility through digital transformation as the PRIMARY focus of their IT services strategy, with cost reduction seen as a logical/implicit derivative.
Exploring the enterprise IT dualism
The digital paradigm has given rise to two distinct sets of enterprise initiatives – IT modernization and business transformation. IT modernization at its core, is focused on making IT leaner, more cost effective, and align better within business requirements. On the other hand, business transformation initiatives are designed with the desired business impact as the starting point, with a view around how "fast" business outcomes/results can be achieved (with cost not necessarily being a key consideration).
The Dualism in Enterprise IT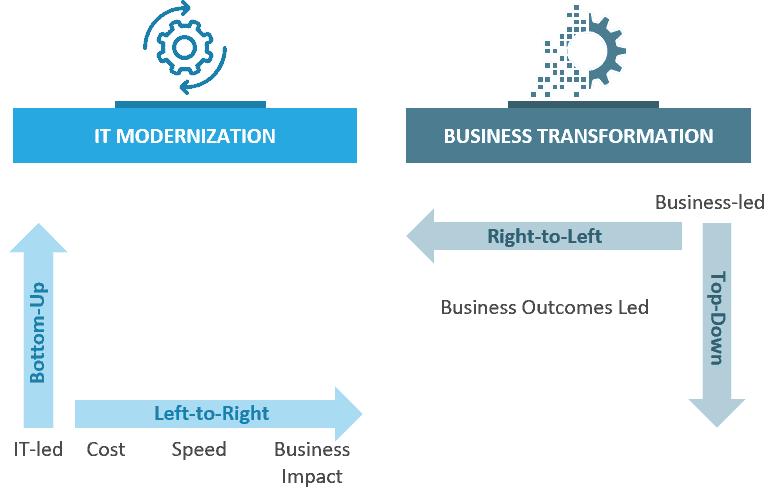 Diminishing returns from current IT services sourcing models
Everest Group take:
IT service providers stand to play a key role in helping enterprises navigate the myriad of complexities arising from next generation technology adoption. However, current enterprise satisfaction levels with IT service providers are at an all-time low. Many enterprises believe that IT service providers simply lack the strategic focus and innovation mindset to drive business value within engagements.
However, enterprises are equally at fault – current enterprise IT service sourcing strategies and constructs being followed by SS&VM functions are still anchored to traditional, cost-centric frameworks, leaving limited room and incentives for service providers to think out-of-the-box and drive innovation on a consistent basis.
Conflated approaches for IT modernization vs. digital transformation
While both IT modernization and business transformation are geared towards driving business value, the initiatives fundamentally warrant different approaches and evaluation metrics. While cost reduction and resilience are critical considerations within IT modernization initiatives, digital transformation is designed with the premise that business results and speed-to-market are of paramount importance.
Measuring Success within IT Modernization vs. Digital Transformation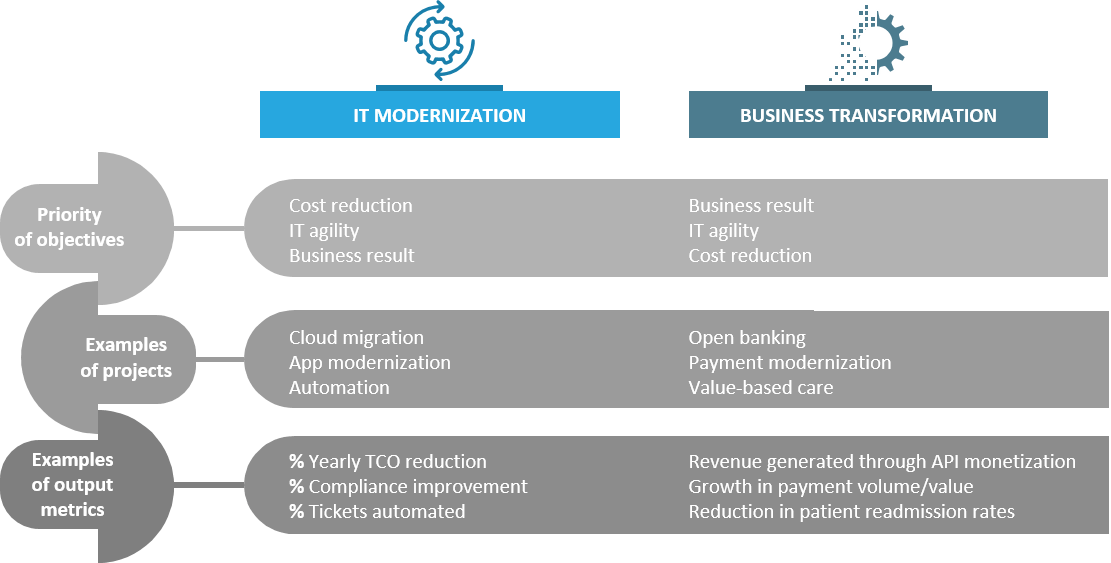 In IT modernization, activities include formulating a legacy automation and cloud strategy and moving into a hybrid environment. Examples of focus areas include how to engineer that IT to be more cost-effective, which workloads should be moved out of legacy into the cloud, and which workloads should be developed in the cloud versus the legacy environment, and what workloads should be automated.
On the other hand, activities in a business transformation initiative focus on rethinking all service model components. These include, for instance, technology and architecture, development process and methodology as well as the talent model of using a persistent team collocated with the business.
Rampant enterprise dissatisfaction within sourcing engagements
As the IT environment gets more complex against the backdrop of a rapidly-proliferating technology landscape, enterprises continue to turn to service providers to navigate the proverbial IT maze. In fact, a healthy 42% of enterprises plan to increase their proportion of spend with IT service providers from existing levels over the next 12 to 24 months.1
That said, these planned spend commitments with IT service providers do not necessarily imply enterprise satisfaction within existing sourcing arrangements. In fact, anti-incumbency sentiments are at an all-time high within IT services engagements.
In 2017, 54% of all enterprise discussions expressed dissatisfaction with IT service providers compared to 48% in 2016
Enterprise Feedback – IT Services Engagements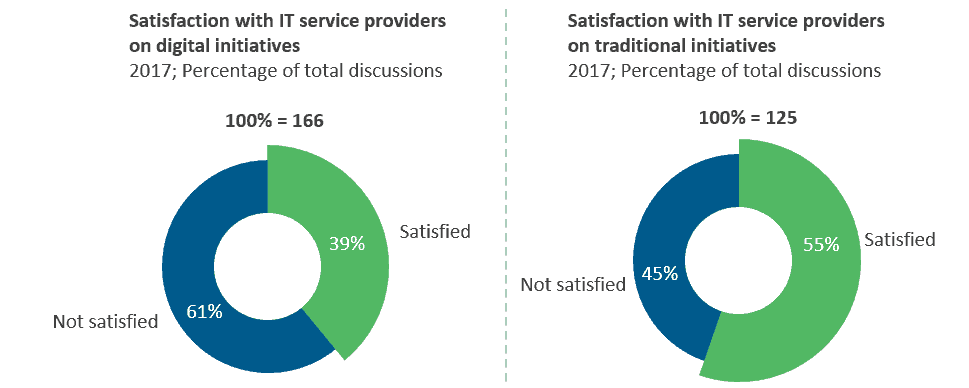 The expectation mismatch between enterprises and their IT service providers is evident from the fact that every one in two enterprises is currently dissatisfied with in its ongoing IT services sourcing engagement. This dissatisfaction is even more profound when a "digital" lens is applied to the sourcing scope and construct.
Enterprise Perception of Service Provider Capabilities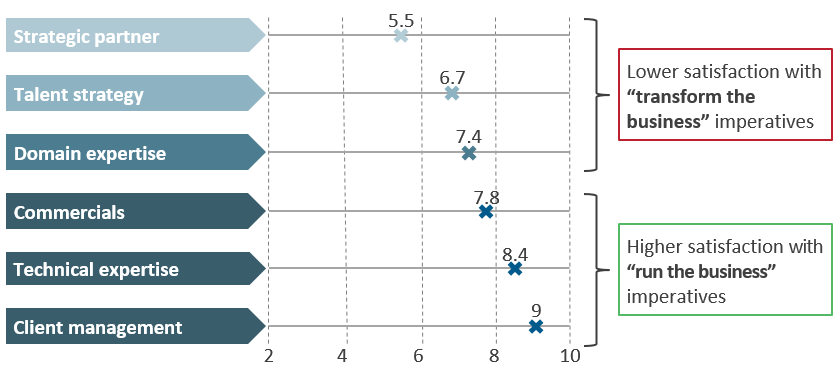 Limitations of the current IT services sourcing design
Contrary to enterprise perception, a meaningful proportion of dissatisfaction arising within IT services engagements is attributable to existing gaps in the sourcing model design itself, as opposed to solely being a function of service provider capabilities and performance.
The current model of vendor selection and sourcing for IT services largely follows a traditional three-tier model comprising strategic, Tier-2, and staffing/1099 vendors. The key challenge with this vendor sourcing model is that it has been designed for driving a scale-driven, arbitrage-led IT services strategy, rather than being anchored to a well-formulated strategic intent that is geared towards creating business value on a continual basis.
Traditional IT Services Sourcing Model for a Global Enterprise
One of the underlying drivers for the decreasing relevance of the traditional sourcing model is the impact of enterprise digitalization on the IT+Ops organization and consumption. IT modernization initiatives require service providers to possess sufficient context around how the end-to-end IT stack is architected in order to build a transformation roadmap that not only drives cost savings, but offers the desired level of performance and resilience.
The shortcomings of the traditional IT services sourcing model become even more glaring when applied to a digital transformation context, wherein service providers are expected to leverage and orchestrate emerging technologies, offering on-demand, elastic, and
plug-and play access to ecosystems. This requires a corresponding change in sourcing models to help drive shorter, quicker, and business-focused outcomes at scale, while ensuring that providers have adequate investment and skin in the game.
Introducing SLOTS – the reimagined IT services sourcing model
Everest Group take:
The "Specialist, Legacy Aggregator, Orchestrator, Transformation Partner, Staffing" (SLOTS) framework represents the reimagined IT service sourcing model for the digital age. The framework establishes five distinct IT service provider roles to help enterprises balance multi-fold objectives of provider competition, risk management, and capabilities across change, manage, and run initiatives. Each type of service provider in the revamped IT operating model will be expected to provide unique value-addition against the backdrop
of the increasingly contingent labor ecosystem and the proliferating technology landscape.
The SLOTS framework – explained
The SLOTS framework is aimed at pivoting the IT services sourcing portfolio design and selection to a "value-driven" provider model, from the classical "scale-driven" vendor categorization followed within traditional sourcing practices.
The underlying principle of the SLOTS framework is that deriving business value from IT requires enterprises to have access to best-of-breed capabilities across a broad set of themes such as legacy IT estate optimization, next generation technology implementation, domain-centric business transformation, multi-vendor orchestration, and niche/specialized functions (e.g., design, data).
The SLOTS Framework for IT Services Sourcing
Each provider category within the SLOTS framework is expected to bring in a unique set of value addition elements that help enterprises deal with the complexities arising from contingent labor ecosystems and rapid technology proliferation.
Description of the SLOTS Provider Categories
Barring multiple domain-centric / functional specialists, an ideal and balanced enterprise IT services sourcing model will include an optimal number (one to two) of providers identified to play each of the roles in the SLOTS framework (thereby avoiding provider sprawl, mitigating governance complexities, and driving high accountability).
Furthermore, as enterprises progressively traverse the journey towards IT modernization, the role of legacy orchestrators is gradually expected to metamorphize into that of orchestrators providing ongoing governance and driving continuous improvement.
Shifting to SLOTS – a beginner's handbook
While the exact sourcing strategy is expected to vary based on enterprise starting points (scale, maturity, existing provider portfolio, etc.), there are some guidelines and best practices for enterprises to consider while shifting to the SLOTS framework:
Establish a comprehensive strategic intent: Lay out business goals over a three to five year timeframe and develop a robust IT charter by involving CXOs and other relevant stakeholders across key functions (IT functions, business lines, marketing, HR, etc.)
Clearly define sourcing requirements and desired outcomes: Translate stated business objectives into well-defined IT initiatives and milestones. Delineate IT modernization vs. digital transformation initiatives – formulate desired outcomes and allocate budgets
Design robust evaluation processes and engagement models: Identify and segregate scope of work to be awarded to various provider categories as per the SLOTS framework. Run a thorough evaluation considering the unique decision making criteria applicable to each provider category
Drive continuous review and management: Given that both business models and technology landscapes are witnessing ongoing disruption, the IT strategy and sourcing models should also remain fluid and undergo regular reviews for course correction and ongoing alignment with business goals
Applying the SLOTS Framework for IT Services Sourcing
Preparing for the winds of change in the IT service provider landscape
The IT services outsourcing market is an inflection point – while the "traditional" IT services industry (accounting for about three-fourths of the market) is shrinking, demand for "digital" services (accounting for remaining one-fourth of the market) is ramping. In a hyper-competitive market, only those service providers who can rapidly rotate and align their portfolios with the digital-first world will survive.
Inflection Point in the IT Services Supply Market
The evolving IT services landscape throws out some key implications/considerations for enterprise IT strategic outsourcing & vendor management function:
Carefully segregate and evaluate IT service providers based on their value proposition and capabilities for various roles from within the SLOTS framework (i.e., Specialist, Legacy Aggregator, Orchestrator, Transformation Partner, Staffing Vendor)
Brace for ongoing consolidation in the IT services provider market; strengthen provider risk management and governance practices
Benchmark and calibrate service provider solutioning approaches and offerings against industry best practices and benchmarks in order to effectively drive the innovation agenda within, and derive maximum "business value" from sourcing engagements
Track the innovation roadmap and investment strategy of providers in building/aligning their services portfolios in line with the digital transformation mandate