The life sciences industry can reap the many benefits of Generative Artificial Intelligence (GAI) by effectively overcoming challenges in this highly regulated industry to responsibly implement the technology. Discover key implications for technology players and a roadmap for enterprises to successfully adopt GAI for commercial functions.  
Help us learn more about the potential of gen AI in the life sciences commercial function by participating in this short survey and receive a complimentary summary of the survey findings.
In the first blog in this series, we explored Gen AI life sciences commercial use cases, shared industry leaders' skeptical to optimistic perspectives on its potential, and uncovered new technology offerings. Read on for more insights into key risks, repercussions, and recommendations to adopt generative AI in life sciences.
"With great power comes great responsibility." – Uncle Ben, Spiderman
Undoubtedly, Gen AI has massive potential to disrupt most processes and create new opportunities across industries, including the life sciences commercial function. But the highly regulated nature of this industry brings significant risks and challenges that will need to be overcome to adopt GAI at scale. Let's explore this further in the illustration below: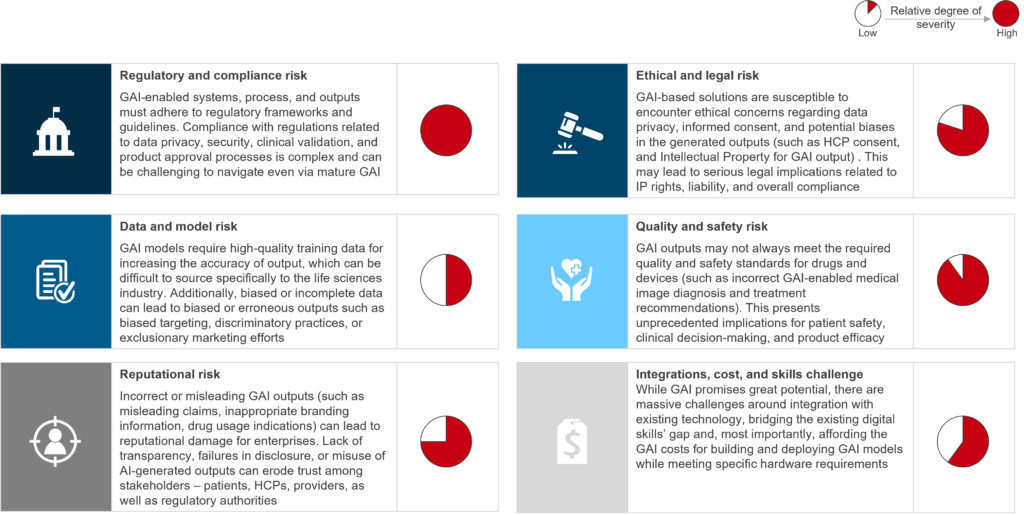 Key implications for the life sciences commercial technology ecosystem
"A journey of a thousand miles begins with a single step." – Lao Tzu
While the Gen AI journey can appear long and daunting, commercial technology players may have a head start over their peers across the life sciences value chain. While certain use cases, such as personalized campaign generation and brand reputation monitoring, will require complex integrations and domain-specific development, other applications like content generation/analytics, market research, and autonomous customer support can be quickly implemented and brought to market.
Next, let's take a look at six recommendations for life sciences technology providers to seize opportunities that GAI presents.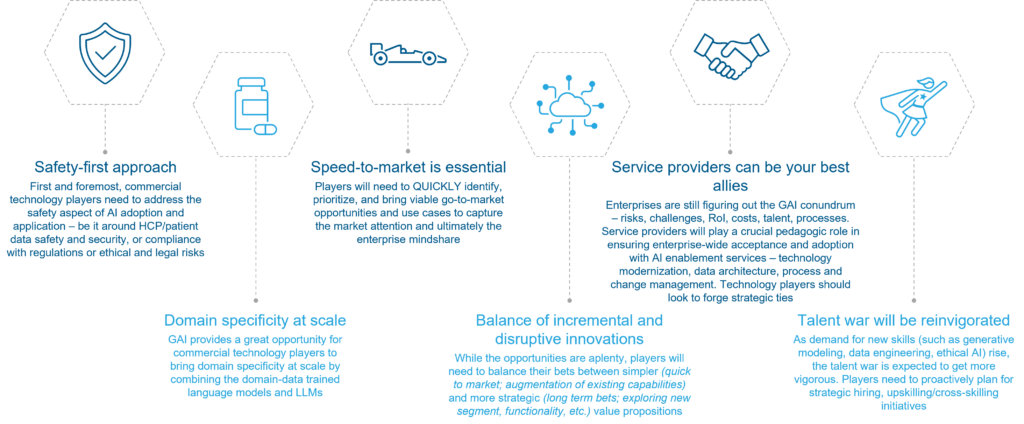 Take a safety-first approach: First and foremost, commercial technology players need to address the safety aspects of Gen AI adoption and applications – from healthcare personnel/patient data safety and security to compliance with regulations and tackling ethical and legal risks. Providers that successfully address safety questions will instill trust and reliability with customers and gain a foot in the door to discuss and foster responsible Gen AI application across the commercial function
Seize the opportunity to achieve domain specificity at scale: By combining the domain-data trained language models and large language models (LLMs), Gen AI provides a great opportunity for commercial technology players to offer domain specificity at scale across a wider range of solutions and areas. This integration enables the generation of more accurate, relevant, and specific outputs in the life sciences commercial function context, ensuring quicker model training, fine-tuning of responses, and domain-specific prompting
Recognize that speed-to-market is essential: Technology providers must quickly identify, prioritize, and bring viable go-to-market opportunities and use cases to capture market attention, and, ultimately, the enterprise mindshare. While enterprises are still determining next steps with Gen AI, they are eager to learn more, explore potential use cases, and become better educated. Therefore, the velocity of go-to-market initiatives is immensely valuable
Balance incremental and disruptive innovations: To succeed in the market, players will need to balance their bets between simpler quick-to-market propositions that augment existing capabilities and more strategic long-term opportunities that explore new segments, functionality, etc. With the abundance of possibilities, providers should carefully weigh options
Partner with service providers: Service providers can be important allies in ensuring enterprise-wide acceptance and adoption of AI-enabled services. Technology players should look to forge strategic ties with service providers who need to be the flag bearers for technology modernization, data architecture, and process and change management initiatives
Prepare to win the talent war: As demand for new skills (such as generative modeling, data engineering, and ethical AI) rises, the talent war is expected to get more vigorous. Players must proactively plan for strategic hiring and upskilling/cross-skilling initiatives
­
Enterprises are still evaluating the Gen AI conundrum across the entire life sciences commercial function, including the risks, challenges, costs, return on investment (RoI), talent, and processes. Our five-step GAI tools adoption guide can help enterprises accelerate this process, as illustrated below: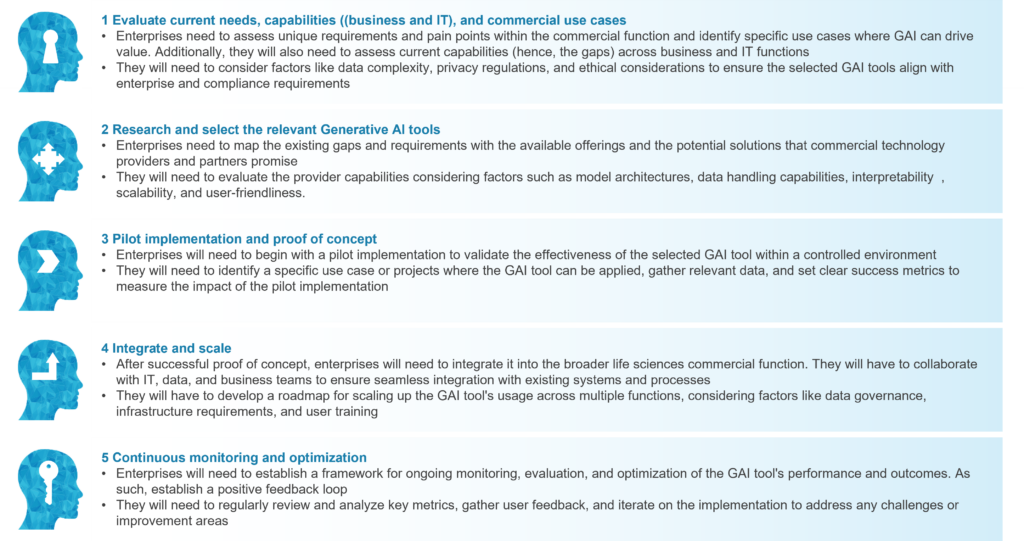 While Gen AI holds immense promise for transforming the life sciences commercial landscape, it comes with its fair share of challenges, including ethical considerations, data quality, interpretability, and integration hurdles that need to be addressed to ensure responsible and successful adoption.
Technology providers can proactively develop strategies and solutions to overcome these obstacles. By crafting a thoughtful roadmap, committing to ethical practices, and focusing on continuous learning and improvement, the life sciences commercial solutions supply ecosystem can harness the power of Gen AI to unlock new opportunities, enhance customer experiences, and drive sustainable industry growth. While the journey to adopt Gen AI may be complex, the rewards for successful navigation are boundless.
Help us as we research the possibilities of Gen AI in the life sciences commercial sector by taking part in this brief survey. As a token of appreciation, you will receive a complimentary summary of the survey results.
To discuss Gen AI in life sciences and its impact on the commercial technology landscape, contact Rohit K, Durga Ambati, Panini K.