Heightened momentum for technology-first and automated operations is elevating customers' need for greater convenience, instant gratification, faster turnaround time, and more self-service options. Today's digitally-immersed consumers have grown accustomed to doing business anywhere, at any time, and with any device, and this is shaping up the new normal of the insurance industry; transforming the insurance claims journey becomes a pivotal priority for Property and Casualty (P&C) carriers to meet demands for a customer-centric hyper-personalized experience driven by digital technologies. Read on to learn more about the zero-touch claims of the future vision and how to achieve it.
Leading InsurTechs with pure-play digital models are heating up the competitive landscape, making it imperative for traditional insurers to optimize their claims functions. An insurer can achieve future goals by accelerating the adoption of next-generation capabilities.
Amid the digital shake-up and rising demand for delivering an "Amazon-like" experience, insurance operations are plagued with workflow complexities caused by multiple intermediaries and legacy systems. Digital and emerging technology solutions can help insurers reshape the customer claims journey and improve turnaround time while reducing information leakages and fraud and delivering a superior customer experience.
Foundational pillars of a digital-claims future
To embark on a transformational claims journey, insurers need to go beyond traditional after-the-fact claims management, tap into the plethora of available data to unlock immense value, and focus on offering omnichannel experiences powered by intuitive digital technologies. P&C carriers will need to excel at the 3Es: experience, efficiency, and effectiveness.
Winning P&C digital claims offer a compelling digital experience and strengthen customer loyalty. Insurers can differentiate themselves by supporting each touchpoint in the claims journey – starting even before an incident occurs – with data, artificial intelligence (AI), analytics, and other emerging technologies—all while retaining the human touch.
By offering seamless omnichannel customer experiences across claims registration, disputes, timely process updates, final settlements, insurers can improve customer satisfaction and retention rates. This is crucial given that Everest Group's research shows ~35% of P&C insurers' priorities across claims management are focused on enhancing customer experience (based on an analysis of 60+ case studies involving claims modernization/transformation).
Insurers also need to drive superior efficiency by enabling data-driven and analytics-driven claims processing. This ensures focus on effective service delivery to reduce claims expenses, while improving claims handling accuracy and ensuring greater customer satisfaction.
Bridging the gap between current and future digital claims-processing
With innovation growing throughout the P&C insurance industry value chain, AI/Machine Learning (ML)-enabled tools eventually will help insurers redefine their roles from claim handlers to claims preventers. P&C carriers flourish when they embrace this mindset shift from a risk transfer to a risk mitigation model.
Insurers can unlock value in the claims industry by employing the internet of things (IoT) and telematics capabilities combined with the connected devices ecosystem and third-party data to identify red flags and alert customers of risks before any loss occurs.
Insurers need to look beyond mere cost-savings, accurately utilize the wealth of data they possess, and transform claims from a necessary back-office function into a source of competitive advantage and market differentiation. Below is a look at the key steps to reach a seamless claims settlement:
Exhibit 1: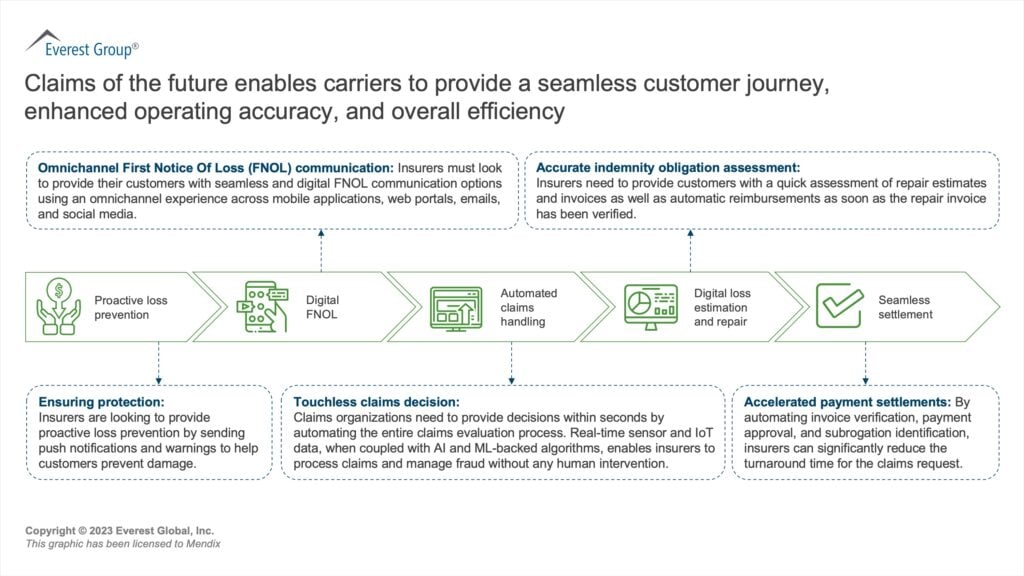 Rigid legacy systems for claims processing can present challenges for insurers and prohibit them from adapting to the evolving customer requirements and optimizing their operations. Legacy IT processes slow progress and innovation, eventually affecting the end-user experience that holds the potential to make or break insurers' reputations. Taking a one-size-fits-all solution approach for different business lines, failing to adopt modular design principles, and having limited advanced systems skills add to the overall complexity and further weaken the ability of insurers to thrive in today's competitive environment.
To attain a competitive edge, insurers require instant resolutions and digital experiences on the go. Leading insurers are harnessing the power of unified and custom low-code/no-code platforms with advanced AI and analytics tools to streamline claims processes, modernize systems, and build modern layers on top of existing legacy systems or other core platforms without involving time-intensive and expensive upgrades. This allows insurers to build reusable codes and design "plug and play" environments to deliver enterprise-grade solutions at speed and scale. Low code makes it easy for carriers to simultaneously focus on profitability, enhance customer experience, and fulfill the vision of balancing quick wins with strategic initiatives.
The need for digitalization of workflows and customer interfaces, convenient user journeys, reusability of components and faster configurations, cost optimization, and skill management are the top drivers fueling the demand for low-code/no-code technology for insurers in modernizing the claims process.
For instance, a leading global insurer used a low-code platform to create an intuitive and dynamic first notice of loss (FNOL) prototype application in just 90 minutes and transformed it into a fully functional mobile application for 2,000-plus users in four weeks, delighting customers.
Where do the opportunities lie?
A combination of agile insurance claims process/operating model transformation, adoption of advanced technologies and telematics, a skilled workforce with technical and domain expertise, and a connected partner ecosystem are the fundamental facilitators for the probable future of zero-touch claims.
In the future of claims processing, P&C insurers will be able to facilitate touchless claims decisions, accelerate payment settlements, assess indemnity obligations accurately, prevent fraud, and mitigate claims litigation losses.
Exhibit 2: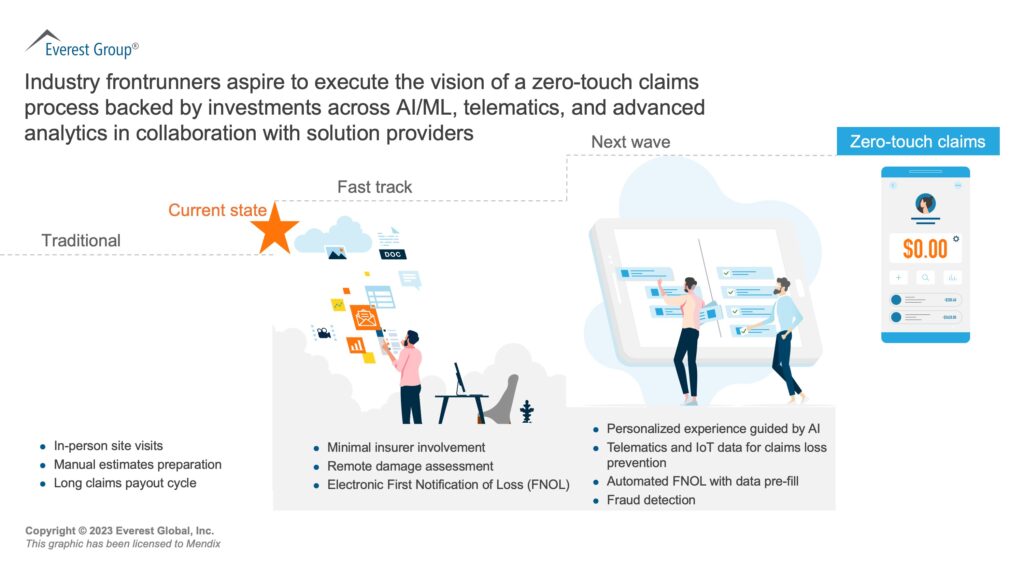 Below are the key elements needed to move from the current state to claims of the future:
Acting quickly and flexibly: The rapidly changing environment is compelling insurers to keep up with the pace. Incumbents need to act fast, develop and launch new products, accelerate FNOL processing, and streamline claims management quickly to stay relevant. The need for agility is greater than ever. Adopting the latest technologies and processes will propel P&C carriers to move faster and separate leaders from laggards
Adopting advanced analytics and AI: Real-time sensor and IoT data coupled with AI and ML-backed algorithms will enable insurers to process claims efficiently and manage fraud without any human intervention. For instance, leading insurers are using an AI model embedded within the claims workflow to assign a complexity score to each claim based on multiple parameters and process all low-risk claims under a certain threshold. Low-complexity claims are routed for straight-through processing while high-complexity claims are sent to the right team depending on the claims adjuster's specialization and availability, thus ensuring speed and accuracy
Transforming talent management strategy: Modernizing the claims journey requires relying on advanced technologies and a skilled workforce to manage emerging risks. Insurers need to enhance their long-term value proposition to attract skilled workers with technical and domain expertise
Partnering with digital claims solution providers: Building partnerships with solution providers can support carriers in extracting maximum value by utilizing the provider's end-to-end digital claims solutions portfolio. Advanced capabilities across core functions include claims notification, adjudication, and settlement to fulfill P&C carriers' needs across the claims value chain
To achieve the zero-touch claims of the future vision and keep up with leading competitors, insurers will need to invest in advanced technologies and drive value creation by taking a more proactive and customer-centric approach.
Successful insurers who can deliver a hyper-personalized experience will generate superior efficiency and leverage data and ecosystem insights to proactively detect fraud. Above all, this transformation improves the claims ratio by building predictive and preventive capabilities. Insurers who take these steps will emerge as industry frontrunners.
To discuss transforming digital claims, please reach out to [email protected], [email protected], and [email protected].
To learn more about technology-first, automated customer experiences, watch our webinar, Strategies for Customer Experience (CX) Success in an Uncertain World, for trends and recommendations on what to prioritize to deliver exceptional customer experience.