Everest Group's Strategic Engagement Reviews (SERs) reveal several key trends that hinder enterprises from realizing maximum value from business process services (BPS) contracts. As enterprises rethink their outsourcing strategies, reevaluate current contracts, and rebalance work, these findings are highly relevant. Read on for insights into the research.
Connect with us to discuss BPS contracting.
Recently, when reading the Aesop fable The Tortoise and the Hare to my toddler niece, I was struck by its resemblance to the current state of outsourcing engagements. During the pandemic, service providers were in emergency mode to ensure business continuity for their clients, which increased satisfaction scores in 2021. However, providers faltered in maintaining the same momentum going into 2022 during the period of the Great Resignation. Providers were not prepared for the sudden large-scale attrition in the services industry, resulting in inconsistent service delivery quality and, consequently, impacting client satisfaction.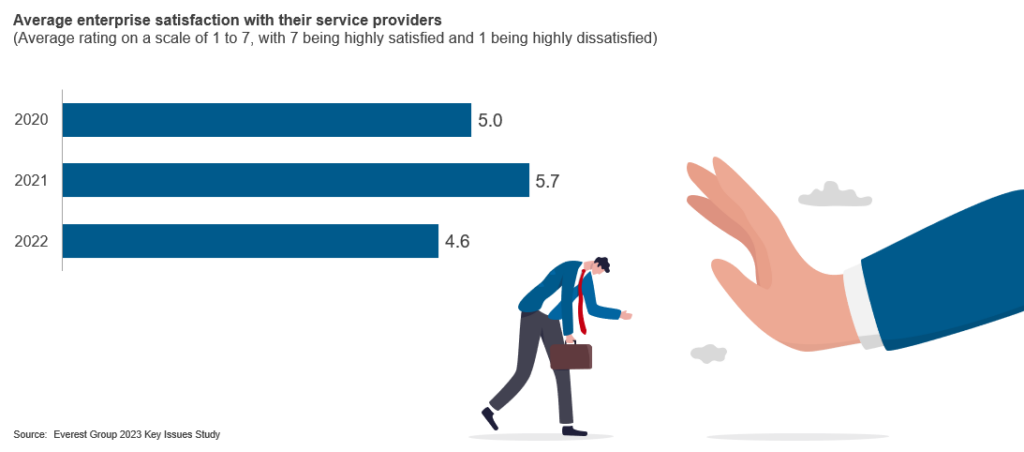 Fast forward to today, we see the recent banking collapse already casting a haze over the business landscape. As the saying goes, "Where there's smoke, there's fire." Enterprises are investing more cautiously, given the current cost pressures along with fears of an economic slowdown and uncertainty. With every dollar being scrutinized, enterprises are rethinking their outsourcing strategies and evaluating the value realized from their outsourcing engagements. Let's explore this further.
Key observations from strategic engagement reviews (SERs)  
Over the past year, Everest Group has supported many leading enterprises in evaluating their outsourcing contracts across different functional areas and benchmarking them against industry standards by leveraging our proprietary Strategic Engagement Review (SER) framework. The framework enables 360-degree assessment of outsourcing engagements with analysis across various dimensions, including solutions, pricing, contract terms, provider delivery and performance, and transformation.
While most of these contracts remain operational with transactional/tactical processes, outsourcing complex and upstream work has increased. We also observed the scope is expanding into adjacent and/or non-traditional areas such as risk management and compliance and environmental, social, and governance (ESG). These advancements are the result of joint efforts by enterprises welcoming providers as strategic partners and providers building robust capabilities to support the judgment-intensive processes.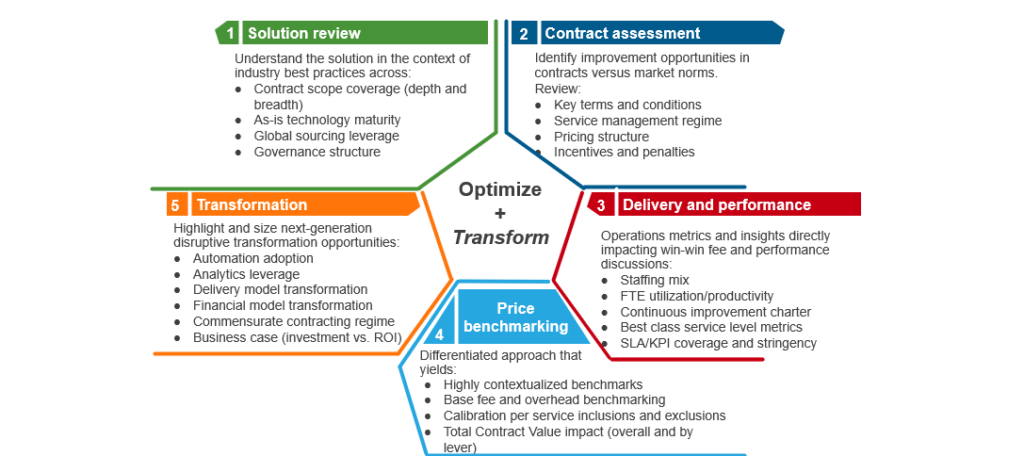 While benchmarking commercials remains a high priority for enterprises, the focus is shifting to understanding how to enhance the value from outsourcing engagements (beyond cost) and transform operations through best practices and digital adoption.
Below are a few observations from these engagements:
Most of these contracts inaccurately reflect client satisfaction due to irrelevant tracking metrics and unclear communication between parties regarding outcomes
Most of the contracts lack innovative commercial constructs that often impede full value realization out of the engagement
Both enterprises and providers need to fulfill certain existing gaps to embrace and implement more mature transformation models
This can be achieved by considering dedicated change management practices as the heart of any outsourcing engagement
Are performance dashboards merely a facade?
Indeed, performance dashboards tracking Service Level Agreements (SLAs) look as green as the proverbial "grass on the other side," but the reality is not as rosy for a myriad of reasons. This phenomenon is often called the "watermelon effect." Much like a watermelon that is smooth and green on the outside, hiding a red core, service metrics can be on target on the surface, but underneath, they may indicate poor service delivery and enterprise dissatisfaction.
Unclear communication regarding outcomes that lead to contract value leakage is the primary reason for this occurring. With the focus on client-centricity and winning deals, providers often commit to almost all client demands without properly clarifying how the "value gains" will be achieved. This leads to incongruity between the implementation and the client's vision. For instance, productivity gains can be achieved either through digital resources or full-time equivalents (FTEs). Failing to mention these intricacies often results in difficulty in agreeing on the realized value after the implementation.
Aligning on well-defined outcomes won't necessarily lead to maximum value realization without identifying and tracking the right metrics to govern the service delivery quality. We often find contractual SLAs that measure activity and workflow steps without aligning with the strategic business outcomes. Measuring irrelevant metrics may dilute the service level credit mechanism, which determines the provider's fees tied to SLAs.
The holy grail for measuring outcomes and avoiding excess provider payouts is tracking relevant metrics that truly represent the end business goal. For example, if the goal is process standardization, then operational metrics such as payment processing accuracy might be relevant. For more mature organizations looking for large-scale transformation for topline improvement, outcome-oriented metrics, such as Days Sales Outstanding (DSO) could be better.
Sharing is indeed caring – the need for gain-sharing commercials
Enterprises often are dissatisfied with providers' lack of proactiveness in bringing in innovation for transformation. This stems from the prevalence of the typical time-and-value commercial construct, which doesn't incentivize the provider to exceed contractual commitments.
By embracing a gain-sharing pricing model that incentivizes providers to bring in more value-adds, enterprises can ensure providers have skin in the game. This approach not only fosters collaboration between the provider and enterprise but also builds an alliance as both parties work hand-in-hand towards a common goal. Moreover, this strategy further establishes the pathway for improved trust within the relationship, which is essential for the provider to act as a strategic partner.
It takes two to tango! Two to transform!
To draw a parallel about these engagements, a contract is like two rowers wading a boat through a turbulent river – it takes joint efforts to row through the perilous journey to reach the shore safely! Likewise, the onus of creating a sustaining long-term outsourcing relationship with maximum value realization lies with both the provider and the enterprise.
While the lift-shift-fix transformation model appears to be the most prevalent, there are profound reasons more mature transformation models are not being implemented. Although enterprises want providers to proactively pitch their technology solutions, the reality is that the willingness to embrace these contributions is limited! The reason enterprises are reluctant to adopt provider technology beyond point solutions is simply because this typically entails heavy provider ownership of the technology infrastructure. Consequently, enterprises want to avoid operational dependency that might increase future switching or termination costs.
On the other side, we also see providers being a bit risk-averse about challenging the in-house enterprise technology landscape to maintain good relationships with their clients by avoiding ruffling the features of the enterprise infrastructure!
While this type of arrangement minimizes provider intervention and operational dependency, it also limits cost efficiencies and business value that comes from leveraging provider technology. True value realization from outsourcing engagements will be achieved when enterprises provide more ownership of processes, visibility into organizational data, and greater flexibility to operationalize providers' transformation initiatives. Concurrently, providers need to outline a clear transformation roadmap for enterprises, enabling them to visualize their journey ahead.
It's high time that we see the "C" in change management as an underrated pivot to outsourcing
The change management aspect of resources is often underestimated in outsourcing relationships. Enterprises report that poor change management initiatives from providers can lead to disgruntled employees, resulting in employee attrition that indirectly affects the outsourcing project quality. Therefore, it is important to take a more proactive and structured approach to increase employee engagement and productivity in the outsourced service function, rather than approaching change management reactively and on an ad hoc basis.
What is the best way forward?
As enterprises plan for renewed growth, it will be intriguing to see how the outsourcing landscape evolves amidst the anticipated geopolitical unrest and recessionary environment. Some questions we'll be following are: Will organizations need to rebalance work? Will increased provider rates challenge the cost advantages of outsourcing? Will large-scale transformation initiatives take a back seat to increased demand for short-time-to-value products in the near term?
To benchmark your current outsourcing contract, contact Everest Group. For more information, reach out to Prateek Singh, Practice Director, BPS, and Asmita Das, Senior Analyst, BPS.
Join our webinar, Key Issues 2024: Creating Accelerated Value in a Dynamic World, to discover insights into the current perspectives of IT-BP industry leaders and the major concerns, expectations, and trends for 2024.