Cloud Security Services
The demand for cloud security services in the global business landscape is accelerating due to enterprises' digital transformation mandates, rising importance of data protection, and challenges in securing hybrid multi-cloud environments. The need for effective cloud security solutions has intensified due to the expansion of cloud infrastructure, which has led to larger attack surfaces, rising cyber threats, complexities in posture management, and frequently changing regional cloud governance and security policies.
In response to stricter data protection regulations, enterprises face growing pressure to comply with data privacy laws and address increasing cybersecurity threats. The post-pandemic landscape, characterized by remote work and security vulnerabilities, has intensified cyber risks. Enterprises are prioritizing cloud security services to offer comprehensive end-to-end protection across complex hybrid multi-cloud systems. Cloud security providers are expanding their capabilities to meet these demands, emphasizing a platform-driven approach with next-generation features such as DevSecOps, automation, and zero trust. Collaborative efforts with cloud-native and third-party security providers are vital to provide sophisticated, adaptable, and globally compliant cloud security services.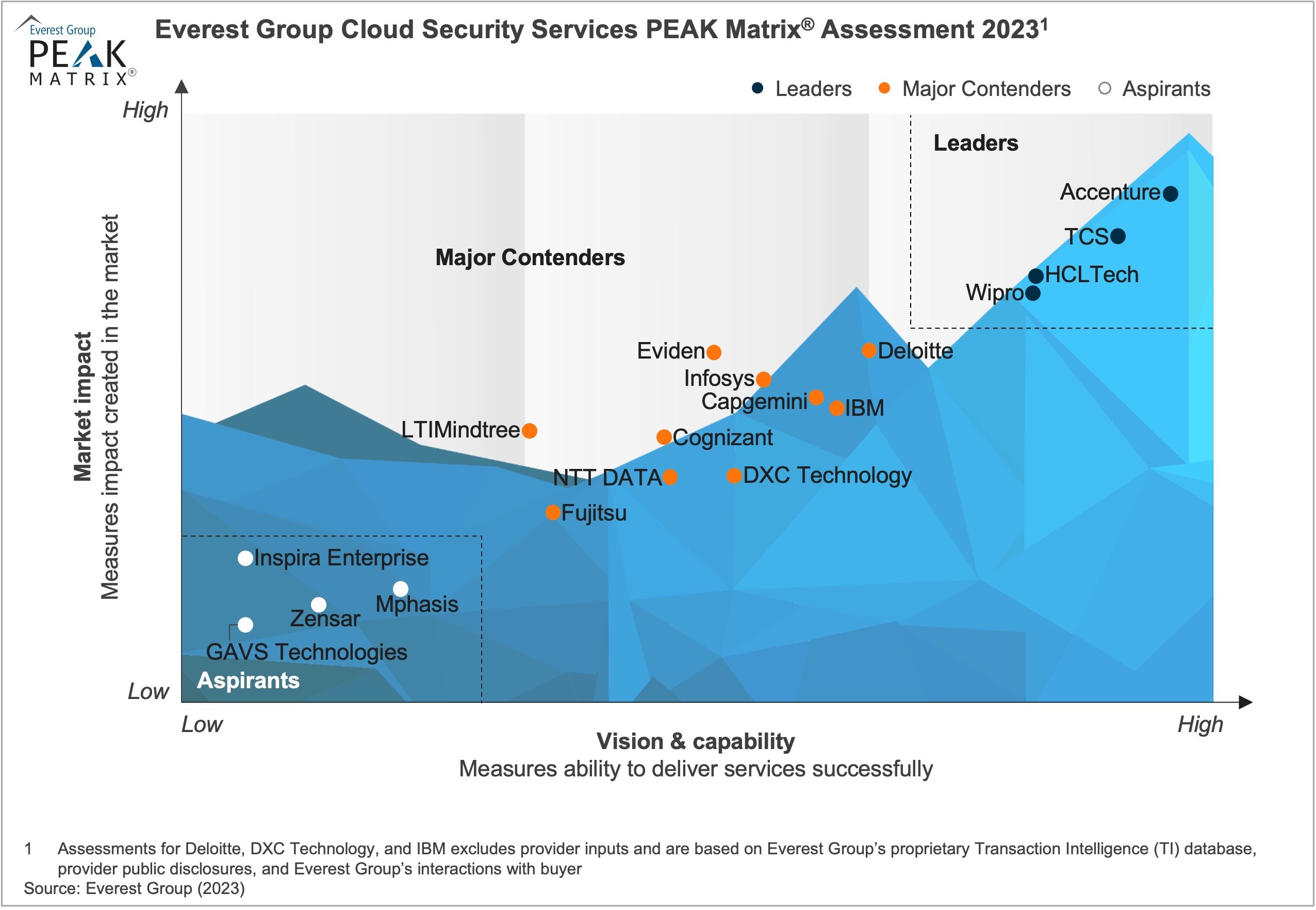 What is in this PEAK Matrix® Report
In this report, we assess 18 global cloud security providers featured on the Cloud Security Services PEAK Matrix® Assessment 2023. The research will help buyers select the right-fit provider for their needs, while providers will be able to benchmark themselves against each other.
In this report, we deliver:
Cloud Security Services PEAK Matrix characteristics
Enterprise sourcing considerations
Providers' key strengths and limitations
Scope
All industries and geographies
Services: cloud security
The assessment is based on Everest Group's annual RFI process for the calendar year 2023, interactions with leading cloud security providers, client reference checks, and an ongoing analysis of the cloud security services market
Related PEAK Matrix® Assessments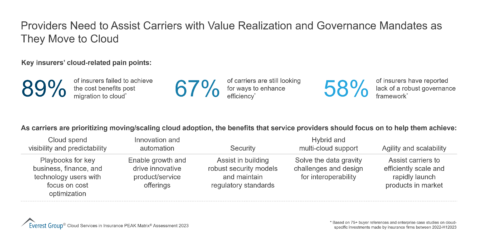 Providers Need to Assist Carriers with Value Realization and Governance Mandates as They Move to Cloud
What is the PEAK Matrix®?
The PEAK Matrix® provides an objective, data-driven assessment of service and technology providers based on their overall capability and market impact across different global services markets, classifying them into three categories: Leaders, Major Contenders, and Aspirants.