Life Sciences Clinical Data and Analytics (D&A) Platforms PEAK Matrix® Assessment
The pandemic accelerated the need to extract value from data as it led to a substantial increase in data generation from various clinical sources, characterized by high veracity, variety, and volume. As a result, there has been a notable surge in the adoption of clinical data and analytics platforms in clinical development. This has sparked considerable interest in assessing their impact on clinical trials, patient care, treatment outcomes, and health system efficiency. Currently, the industry faces a significant challenge in integrating complex clinical data sources, including Electronic Health Records (EHR), Electronic Medical Records (EMR), laboratory data, Clinical Trial Management Systems (CTMS), connected devices, and Real-world Data (RWD).
Clinical data and analytics platforms offer significant benefits in the realm of clinical development. These platforms enhance data management by facilitating centralized and standardized data collection from various sources, resulting in improved data quality and integrity. Real-time monitoring capabilities enable stakeholders to track trial progress, identify potential issues, and make informed decisions promptly. Advanced analytics tools help uncover patterns, trends, and correlations within the data, providing valuable insights for optimizing trial protocols and treatment strategies.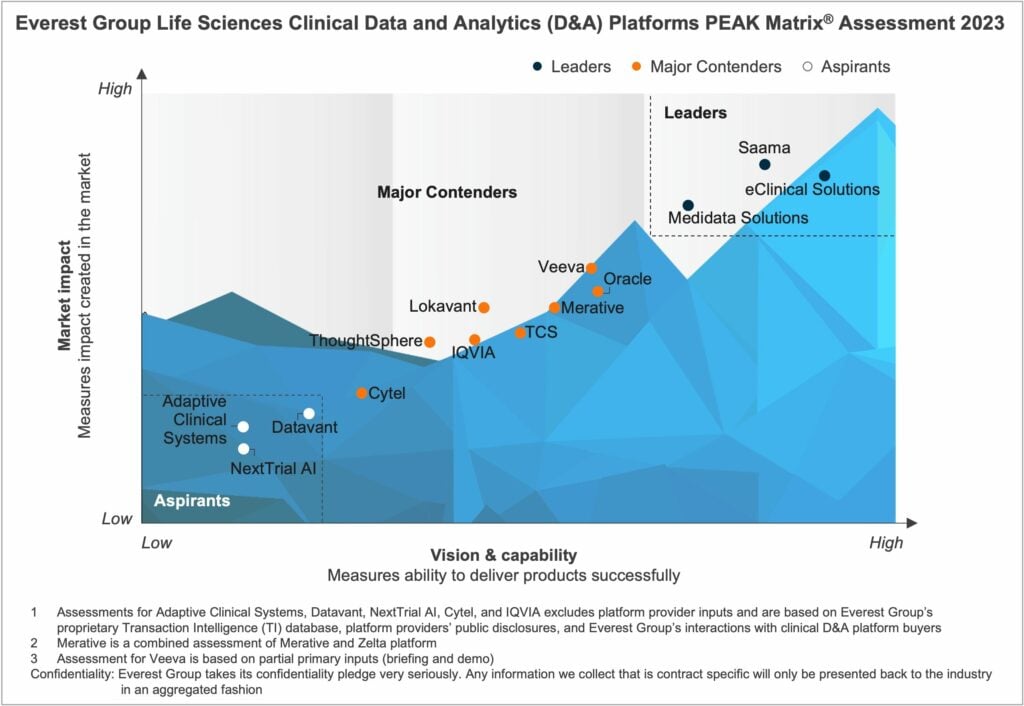 What is in this PEAK Matrix® Report
In this report, we assess 14 clinical Data and Analytics (D&A) platform providers. The providers are positioned on Everest Group's PEAK Matrix®, a composite index of a range of distinct metrics related to the providers' capabilities and market impact. The study will enable buyers to choose the best-fit provider based on their sourcing considerations, while providers will be able to benchmark their performance against each other.
In this report, we:
Examine the provider landscape for clinical D&A platforms
Assess clinical D&A platform providers on several capabilities and market success-related dimensions
Scope:
Industry: life sciences

Geography: global
Related PEAK Matrix® Assessments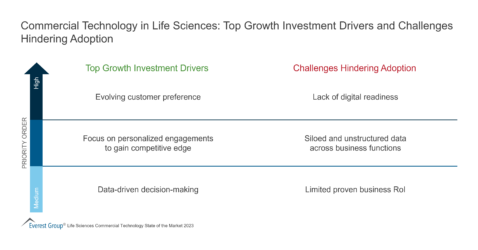 Commercial Technology in Life Sciences Top Growth Investment Drivers and Challenges Hindering Adoption
What is the PEAK Matrix®?
The PEAK Matrix® provides an objective, data-driven assessment of service and technology providers based on their overall capability and market impact across different global services markets, classifying them into three categories: Leaders, Major Contenders, and Aspirants.