Network Transformation and Managed Services PEAK Matrix® Assessment – System Integrators (SIs)
As enterprises embrace their digital transformation journeys, they are becoming cognizant of the critical role that network transformation plays. By employing cutting-edge network technologies, these digital enterprises seek to optimize performance, automate operations, boost efficiency, expedite digital transformation, and enhance user experiences. However, amid the backdrop of declining global macroeconomic conditions, enterprises currently prioritize realizing RoI from their prior investments, especially those made during the pandemic, before allocating resources to newer and less mature technologies such as 5G and edge computing.
Network System Integrators (SIs) are proactively investing in a comprehensive suite of solutions to serve the ever-evolving needs of enterprises. Their aim is to deliver end-to-end network transformation, spanning consulting to managed services, while incorporating cutting-edge technologies such as multicloud networking, Network-as-a-Service (NaaS), network automation, IoT, and wireless networks. They strategically realign their network approach, focusing on use case relevance and value creation. Consequently, they are developing industry-specific and AI-driven contextualized solutions tailored to the unique requirements of various sectors. By doing so, these SIs can offer highly customized network solutions that drive tangible and meaningful business outcomes.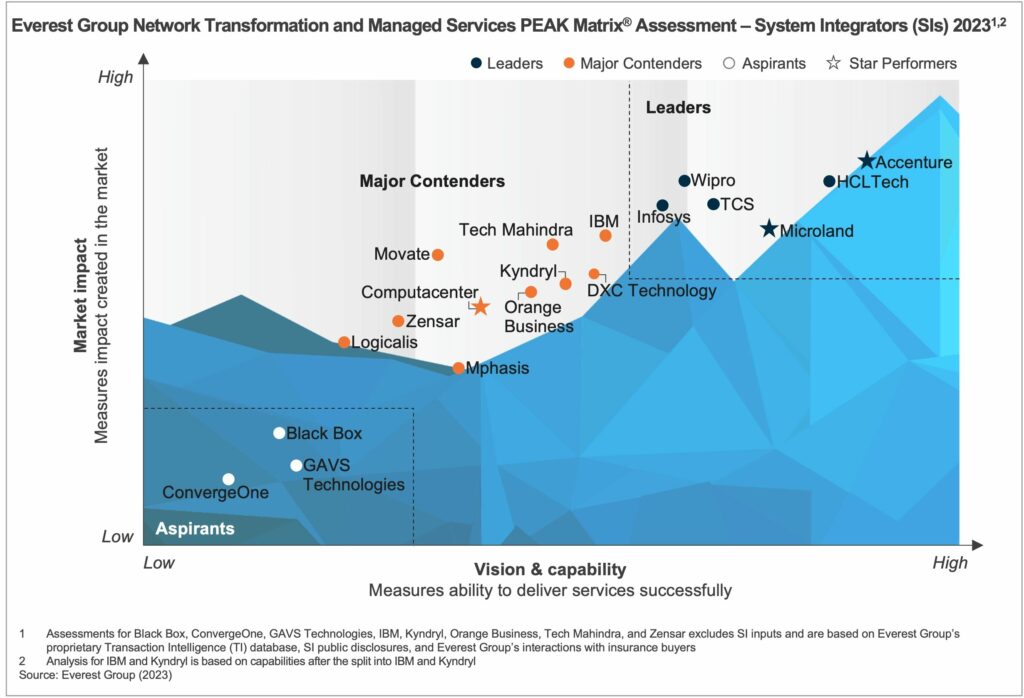 What is in this PEAK Matrix® Report
In this report, we assess 19 network SIs on the Everest Group PEAK® and categorize them as Leaders, Major Contenders, and Aspirants based on their vision and capability and market impact.
In this report, we:
Examine the market impact and vision and capability of 19 SIs focused on network services
Study providers' key strengths and limitations
Evaluate enterprise sourcing considerations
Scope:
All industries and geographies
The assessment is based on Everest Group's annual RFI process for the calendar year 2023, interactions with leading network SIs, client reference checks, and an ongoing analysis of the network services market
Related PEAK Matrix® Assessments
What is the PEAK Matrix®?
The PEAK Matrix® provides an objective, data-driven assessment of service and technology providers based on their overall capability and market impact across different global services markets, classifying them into three categories: Leaders, Major Contenders, and Aspirants.