Banking Operations – Services PEAK Matrix® Assessment
The banking operations market has become relatively consolidated at the top, with the leading participants capturing a larger share of the market. Additionally, specialists have entered specific banking segments. Lines of business such as cards and payments and retail banking are growing significantly. Enterprises are focusing on becoming future-ready, agile, and resilient to manage volume fluctuations and staff shortages.
Providers are differentiating themselves by offering as-a-service models and focusing on digital transformation solutions by leveraging analytics, automation, and AI, combined with industry expertise and an advisory-led approach. Additionally, they are leveraging the partnership ecosystem and making new acquisitions to enhance their capabilities and improve the time-to-market of their offerings. Buyers are increasingly partnering with participants capable of providing holistic support in the form of proactive guidance on industry best practices, customer experience design, and faster, cheaper, and better transformative models.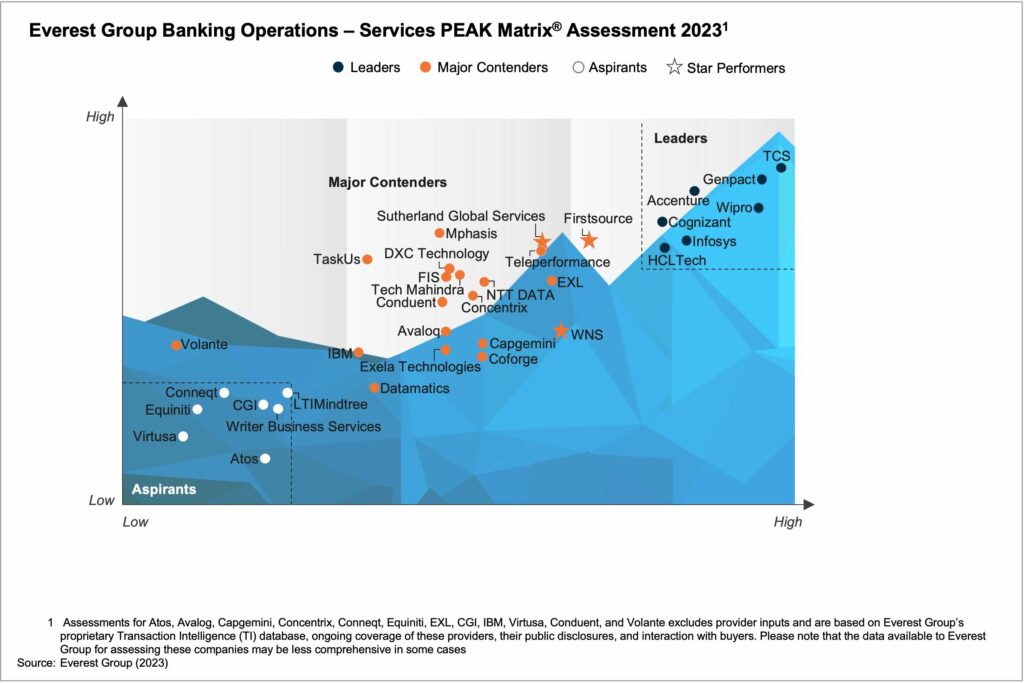 What is in this PEAK Matrix® Report
In this report, we analyze 34 banking operations service providers and position them on Everest Group's PEAK Matrix® as Leaders, Major Contenders, and Aspirants based on their capabilities and offerings. The report will assist key stakeholders, such as banks, financial institutions, and providers, in understanding the current banking service provider landscape and make informed sourcing and partnership decisions.
This report features 34 banking operations service provider profiles and includes:
Providers' relative positioning on Everest Group's PEAK Matrix® for banking operations
Providers' market impact
Providers' vision and capability assessment across key dimensions
Enterprise sourcing considerations
Scope:
Industry: Banking and Financial Services (BFS)
Geography: global
The report covers vertical-specific banking operations and does not include horizontal business processes such as Finance and Accounting (F&A), HR, procurement, and contact center
This assessment is based on Everest Group's annual RFI process and an ongoing analysis of the banking operations industry
Related PEAK Matrix® Assessments
What is the PEAK Matrix®?
The PEAK Matrix® provides an objective, data-driven assessment of service and technology providers based on their overall capability and market impact across different global services markets, classifying them into three categories: Leaders, Major Contenders, and Aspirants.