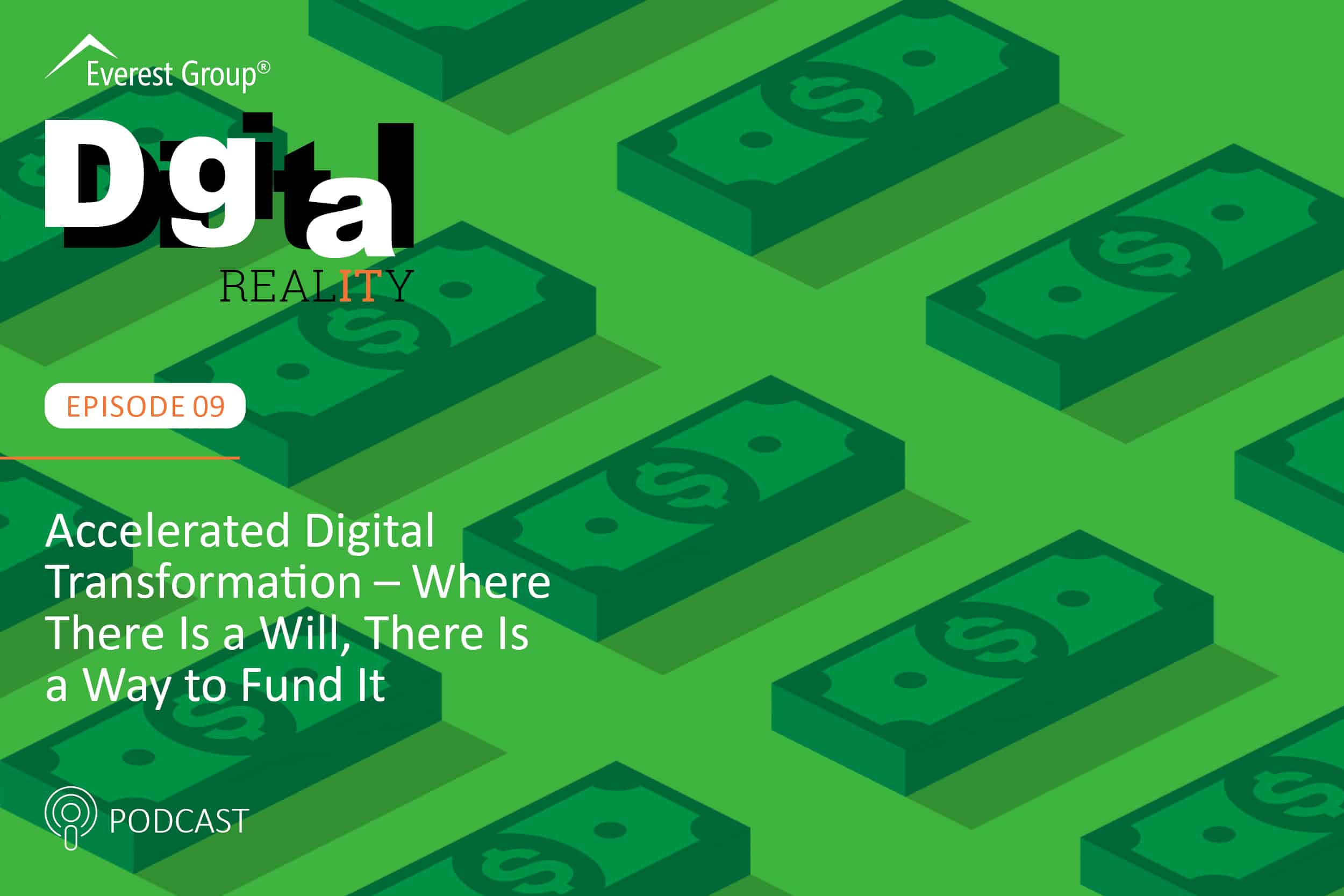 In the ninth episode of our Digital Reality podcast series, Cecilia Edwards and Jimit Arora highlight examples of financial engineering solutions service providers are offering to accelerate the digital transformation of cash strapped enterprises. They also discuss changes in internal funding approval and allocation processes that support rapid decision-making while limiting the associated risk.
Jimit Arora: Welcome to this month's episode of Digital Reality, Everest Group's monthly podcast that moves beyond theory and beyond technology to discuss the realities of doing business in a digital-first world. I'm Jimit Arora…
Cecilia Edwards: and I'm Cecilia Edwards. Each month we bring you a discussion that digs into the details of what it means, fundamentally, to execute a digital transformation that creates real business results.
This month, as we continue to see the impacts of the COVID-19 crisis globally, we shift the conversation to an important issue facing IT leaders as they wrestle with whether they should they increase or decrease the pace of digital transformation. From our leadership team's conversations with over 50 enterprises in the last few weeks – the biggest regret we hear is that they wish they had made more progress on our automation and digital agendas prior to the crisis. So clearly the posture coming out of this crisis is that the pace of digital transformation needs to accelerate to drive the needed efficiencies in the organizational value chain.
However, there is a sobering reality check here – digital transformation requires investment, and budgets are the one thing that have been impacted significantly given the broader recessionary environment that we find ourselves in. So this creates a paradox – companies need digital transformation to bend the cost curve and at the same time find themselves lacking the budgets to realize these transformations.
Jimit, you have noted this paradox in the past – what are some strategies that you think are important to potentially find the funding to drive digital transformation.
JA: Yes, this is indeed an interesting paradox – the good news is that this isn't new. As an industry we have been dealing with this issue for as long as I can recall, because no CIO will say that their budgets are adequate to keep the lights on and deliver the change they need. What is most instructive is: if you look back to prior crises – the dotcom bubble, the global financial crisis, and now in the aftermath of COVID-19 – one of the funding strategies we are going to see is a resurgence in is financial engineering.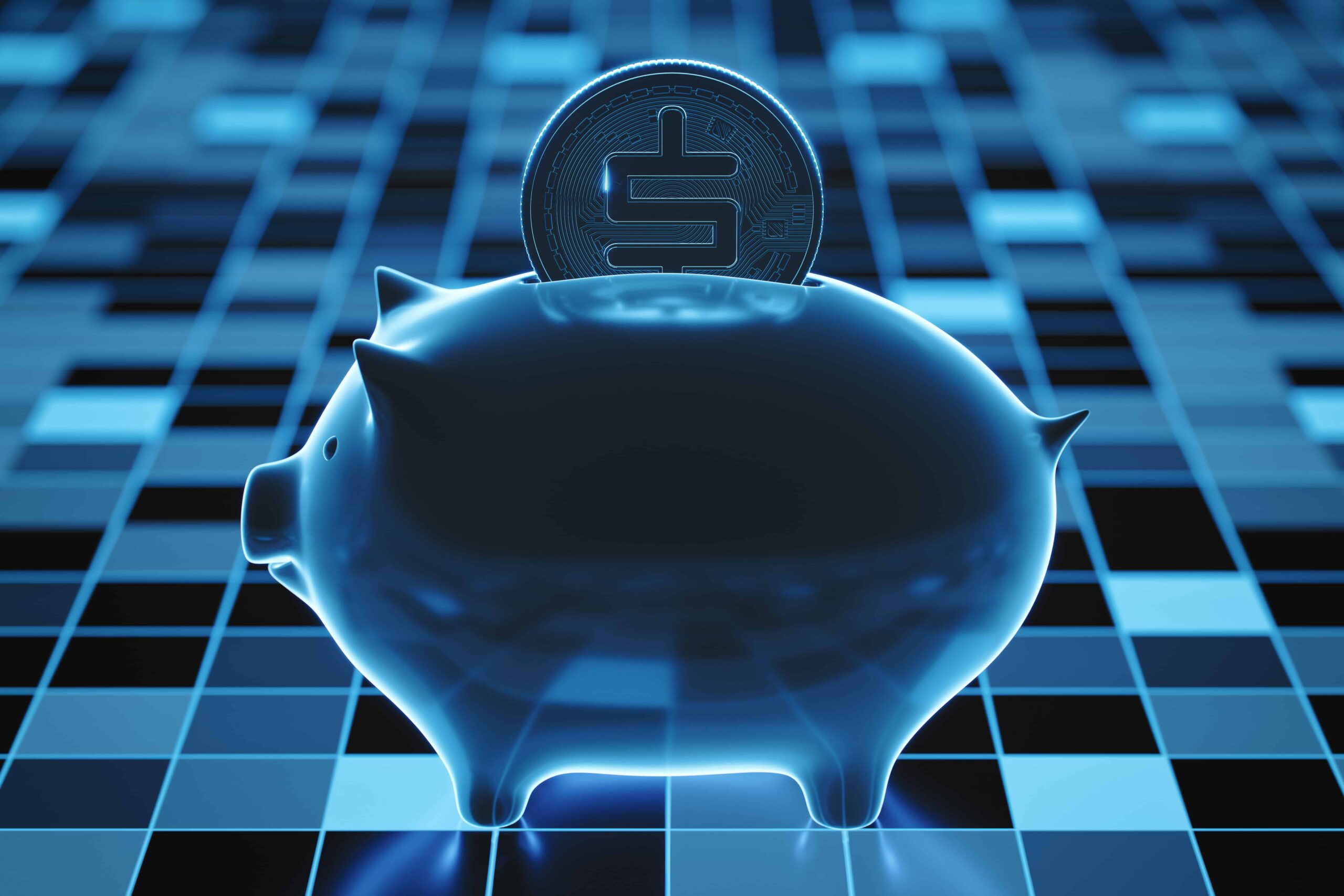 Now, financial engineering is not new – it has been around for a while. Effectively, you end up using accounting strategies – either your own or your vendor's – to realize benefits without incurring all of the costs upfront. The most common manifestation is that you are using a partner's balance sheet in the form of financing to make investments today and realizing value in the near term, where the payout happens over a longer period of time. A simple example of this becomes taking investment strategies that require CapEx and turning them into OpEx.
It might sound simple, but it isn't a one-size-fits-all approach and is going to be a function of how a company's financial rules and internal accounting policies are structured.
For example, what aspects of new projects and upgrades are capitalized vs. considered an operating expense? How does your organization account for the labor involved in implementing new features and functionalities? Fundamentally, if the goal was to increase OpEx and your finance organization insists that these need to be capitalized then you may not be able to realize the benefits. I think that is one caution I provide organizations that are looking to leverage vendor financial engineering solutions to ensure that the path you are looking to go down will meet the necessary approvals of the finance organization. Which is why one of the most important things for IT leaders to do is to ensure you work very closely with your finance organization.
CE: Excellent point Jimit and a much-needed word of caution here. I think there is definitely a lot of commitment on the part of two categories of participants in the digital transformation enablement stack. BigTech vendors, like Microsoft, SAP, AWS, Oracle, Cisco, and systems integrators are preparing significantly to leverage their impressive balance sheets to enable client transformation programs to offset the decline in demand that they are likely to see.
A very public example has been Cisco, which said it is allocating $2.5 billion to help customers defer up to 95% of payments on new products and associated services until 2021. I also have examples of systems integrators that are offering to help "collapse the stack" by offering to the client a single monthly invoice that takes into account the investments in the infrastructure, software, and services by getting the client to the post-transformation run rate in year one in return of a seven- or 10-year deal. So clearly the wave has started, and companies need not be constrained by their own budget challenges, because BigTech and SIs are ready to make things happen in return for a large, long-term deal.
JA: Cecilia, changing gears somewhat. I know you have been examining an alternate mindset to thinking about investments and funding for digital transformation and you actually presented that in a recent webcast we conducted.
CE: Yes Jimit. In some ways, the approach we mention is consistent with the discussions we have had on how digital transformation is not an IT conversation exclusively but a business conversation. So three broad factors to keep in mind:
First, ensuring alignment of the digital transformation effort with strategic objectives is very important and often this trumps traditional ROI calculations. Why? Because in a number of situations, the business objectives might be framed on dimensions that are hard to quantify and put a dollar figure on. Coming out of this crisis, productivity and resilience are emerging as very important dimensions – and current models can't effectively frame these into a robust ROI conversation;
Second, empowering those with business context to make many decisions becomes most important;
Third, strategic priorities will change over time. Having the discipline to stop funding for things that no longer align with the strategic priorities is important (i.e., avoiding the sunk cost fallacy) and also ensuring new funding for new priorities. Traditional budgeting approaches need to change, and ensuring that you have mechanisms to fund and defund only for value becomes paramount.
JA: Unprecedented is probably the most used (and potentially misused) word to describe the nature of the crisis at hand. However, this crisis has also helped amplify the need for digital transformation. Microsoft CEO Satya Nadella recently said that we saw two years of digital transformation in two months. And this transformation needs sustainable and creative funding strategies. There are clear lessons for us as we think through the funding strategies available to us today. We call these lessons Digital Reality Check Points:
Leverage financial engineering – it is real, effective, especially in a hypercompetitive supply environment and can help accelerate your transformation journey;
However, this is not a one-size-fits-all approach. Ensure the applicability of these vendor financing solutions to your organization's financial and accounting context;
Align new investment strategies to the business' strategic objectives.
Please check us out at www.everestgrp.com, or follow us on LinkedIn at jimitarora and ceciliaedwards. If you'd like to share your company's story or have a digital topic you would like us to explore, reach out to us at [email protected].