Last year, I wrote here that cloud services were "differentiated commodities."  The evolution of the Infrastructure-as-a-Service (IaaS) market over the last 18 months continues to reinforce this view.
A recent analysis of an enterprise's IaaS options for an IT infrastructure workload that is expected to grow ten-fold during the next few years illustrates this observation quite well – and demonstrates the value that enterprises turning to cloud solutions can contemplate.
The graph below shows five pricing alternatives from three cloud providers (all normalized for similar levels of support, etc.). Amazon Web Services (AWS) EC2 standard on demand offer starts out with the highest cost and holds that premium position throughout the volume range over the three-year period projected. Surprisingly, Microsoft Azure's solution with a one-year commitment comes in at almost half the cost of AWS on-demand and remains very competitive across the volume range. Only Rackspace's private cloud alternative beats out the Azure one-year solution at higher volumes. Azure pricing without the one-year commitment starts pretty competitive, but escalates rapidly to finish nearly as high as AWS on-demand at the highest projected volumes. If willing to make a longer term commitment, the AWS solution with a three-year commitment scales to a competitive level at higher volumes. (However, I should highlight that AWS has a consistent history of reducing prices relatively frequently – lowering price for its first generation standard instances by 18 percent just a few weeks ago, which could easily make even its on-demand offering quite compelling as it potentially could take advantage of future price cuts.)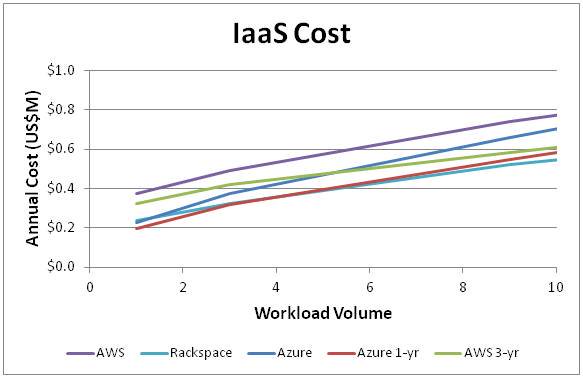 Enterprises thinking about cloud IaaS solutions shouldn't miss the point about how pricing behaves with volume. Each of the solutions shown scale much more slowly than volume growth – AWS grows only 2x with a 10x volume increase and the low price Azure one-year only grows 3x with the 10x volume. Workloads for which rapid growth is likely can secure substantial attractive economics. (One might wonder how frequent workloads might show 10x growth over a relatively short period; we are observing a surprising number of new applications (e.g., big data analytics) that consume resources at many times these rates – some would crash under their own weight without a cloud solution that can scale with their explosive demands.)
Decision makers also need to remember that compute virtual machines (VMs) are only a portion of their IaaS bill – storage, IO, and additional services can add up very quickly and provider strategies and choices differ widely across these areas, too.
Business and technology leaders thinking about decisions about their IT infrastructure options must include cloud solutions in their consideration set. Just like the legacy IT world where capital budgeting ran the show, planners in the next generation IT era need to pay close attention to getting the future outlook right. As illustrated by this IaaS analysis, evaluating options at a snapshot in time may lead to choices that leave a pot of gold on the table. Moreover, crafting the solution design to enable flexibility (i.e., low switching costs) in ways that create future options may enable the enterprise to exert leverage to secure even more favorable economics in the future as pricing models and relative price points shift over time.