While organizations today are feeling the pressure to increase the efficiency and dramatically improve the effectiveness of their global services, we are seeing significant gaps in most global services sourcing models. Service providers (internal and external) have traditionally focused on efficiency over effectiveness, and conventional outsourcing transactions and shared services initiatives have not focused on achieving business impact beyond cost savings. On the other side of the fence, service recipients are continuing to increase their expectations of their providers in terms of business impact, value and innovation.
The graphic below is an example of the multiple constituencies that may be involved in a global services engagement, along with a variety of the delivery focuses and orientations of the two over-arching stakeholder groups. The perceptions and objectives of the stakeholder groups often differ along the spectrum of efficiency and effectiveness. As a result, over the long term a misalignment in business objectives, management priorities and performance perceptions between the service provider/s and service recipient/s occurs, driving value loss within all involved organizations.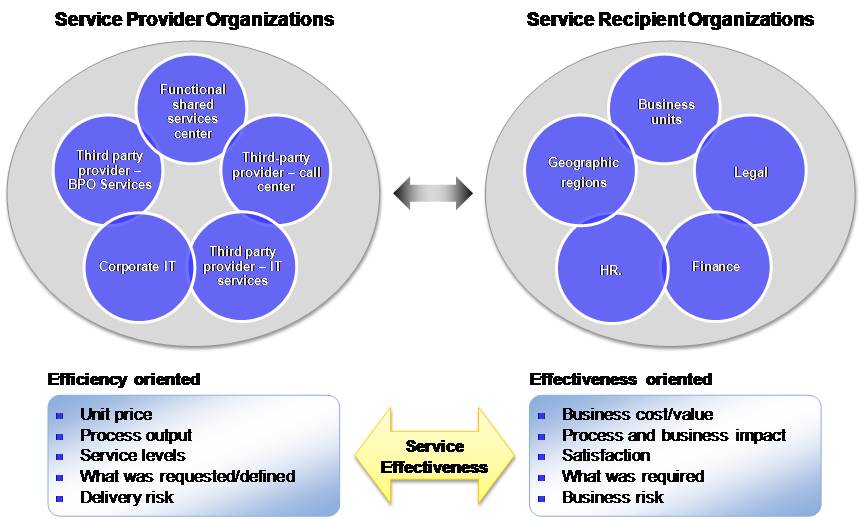 To eliminate this disconnect and loss of value, many global services organizations are reevaluating their services portfolio to determine the optimal delivery model that ensures both effectiveness and efficiency. Inherent in this reevaluation process are a myriad of challenges including:
Addressing improvement at all stages of a process, to include touch points with other processes
Balancing centralization and decentralization in the most effective manner for the enterprise
Refining the roles of captives and third parties
Managing location concentration risk
Building more effective relationships with service providers
Scaling up or down to address the repercussions of M&As/divestitures
Expanding services footprints geographically and/or functionally
Ensuring regulatory compliance
Continuing to improve efficiency while addressing the targeted improvements in effectiveness
To address these challenges and achieve their goals, organizations need to rethink the service delivery model required as the scope of global services becomes broader, deeper, and more sophisticated. Increasing the functional depth of processes gives an enterprise the opportunity to capture both the long-term benefits of strategic sourcing and the short-tem benefits of transactional sourcing, while simultaneously balancing and managing the portfolio of services that remain in-house. This is in contrast to the traditional model in which sourcing efforts have been limited to transactional processes and selective sourcing of judgmental processes. Organizations' experience and maturity with sourcing has led to expanding the scope of services to include sourcing of newer more complex services, shifting the focus from commodity based services to customized services.
The goal is to identify improvement opportunities that drive and create stronger alignment and increased value between service recipients and service provider organizations (both internal shared services and external third parties). The potential long-term value-added benefits include:
Unlocking greater value by doing more (e.g., more coverage, newer markets, more complex processes)
Improving global services' credibility (e.g., increased scale and improved capabilities)
Achieving end-to-end process optimization (business process reengineering through all steps of a process, and across functional and geography touch points)
Reducing friction in operational delivery and in the relationships between service recipients and service providers (redesign of governance and SLAs)
Achieving flexibility of scale (e.g., workload balancing and time-shift via a global delivery framework)
Reducing cycle time (e.g., reduce time to market and quickly expand coverage to new functions and geographies)
Achieving this value is not an easy task. It requires a disciplined approach to manage and monitor the associated risks across three dimensions – people, operational and strategic – each of which will vary depending upon the transactional versus expertise and consultative versus strategic nature of the service in question.
Finally, different factors must be emphasized to different key stakeholder groups when positioning the value of service effectiveness and the changes its implementation will require for success. For example, end users will care most about the service output benefits and impact, while the focus with function owners should be on the service delivery benefits and impact. And executives should be approached with an emphasis on extending solution benefits and impact in one or multiple areas of the organization.
Unlocking the value of increased service effectiveness is not for the faint of heart; but for those willing to undertake the journey, the rewards can be great.
---
See related article on Global Delivery Report, "Transformational" Outsourcing Not for the Meek.