Who would have thought that professional athletes would consistently emerge as the favorites to win the crown in the popular reality (?) ABC television program Dancing with the Stars? Are football players really the best dancers – or is the process intentionally stacked to become a popularity contest only tangentially tied to the show's namesake activity?
Come to think about it – what's the difference between the outcomes we expect on Dancing and those we often see from large outsourcing RFPs?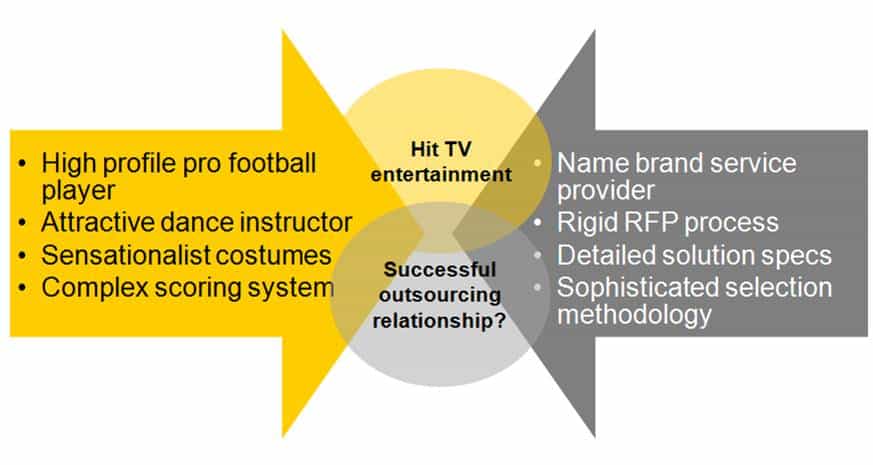 A cynic can clearly make the case that our large outsourcing RFPs have many parallels with Dancing with the Stars:
We invite the most recognizable service providers (stars) because an enterprise can't go wrong with their appeal…
We run a rigid RFP process guided by capable process gurus
We craft meticulous specifications for solutions that leave the stakeholders in awe of the promise (some might prefer the sequined instructors to the grizzled TPA), but what really happens (or is needed) may have little resemblance to the complex needs (were they supposed to deliver a fox trot or a samba? Does the audience have any realization of the difference?)
We administer a programmed selection approach designed to elicit precision from stakeholders who are asked to evaluate elements of which they are not deeply informed, too often resulting in a vote on the presentation form rather than substance (text your vote in for your favorite dance pair – even if it means the best dancers who followed the rules are eliminated in round 2!)
Many football players do perform adequately on the dance floor just like our name brand service providers deliver against their contractual obligations.  Are outsourcing buyers, however, capturing the full value that they could?  What do we need to do to make our sourcing decision-making processes ensure the best emerge from the crowd?  …and for those of you who have gone down this path – is your partner in step?