Join Everest Group
Solve complex problems for the world's leading companies and drive performance breakthroughs
Who We Are
We are a premier boutique strategy consulting and research firm with over 25 years of helping C-level executives of global 1000 companies and major service providers drive business transformation. Our leadership includes alumni of McKinsey & Company, The Boston Consulting Group and Booz & Company. Our consultants are MBA alumni of Ross, HBS, Kellogg, MIT, Tuck, Xavier School of Management, Indian Institute of Management – Lucknow, Johnson, Haas, Rotman and Ivey
Our people are our advantage. We hire from campus and from industry. We look for best-in-class people who: 1) have the courage to act and deliver with integrity, 2) have the ability to build capabilities, 3) act globally, and 4) are entrepreneurial in nature. Truly based on meritocracy, we believe in hiring, retaining, and developing unmatched teams
Why You Should Join Our Team
We are Different
At Everest Group, we do original research. We create value for our clients.
If you want to be viewed as an expert who gets an opportunity to deliver well-defined insights to top-tier clients to help them make meaningful decisions to transform their businesses,  come join our team.
At Everest Group you will work with a talented, dynamic and inclusive workforce; enjoy a flexible work environment; gain deep industry knowledge; and have the opportunity to innovate.
Your Career Progression
At Everest Group, your career progression is based upon merit. We are committed to supporting your continual development, from Analyst to Partner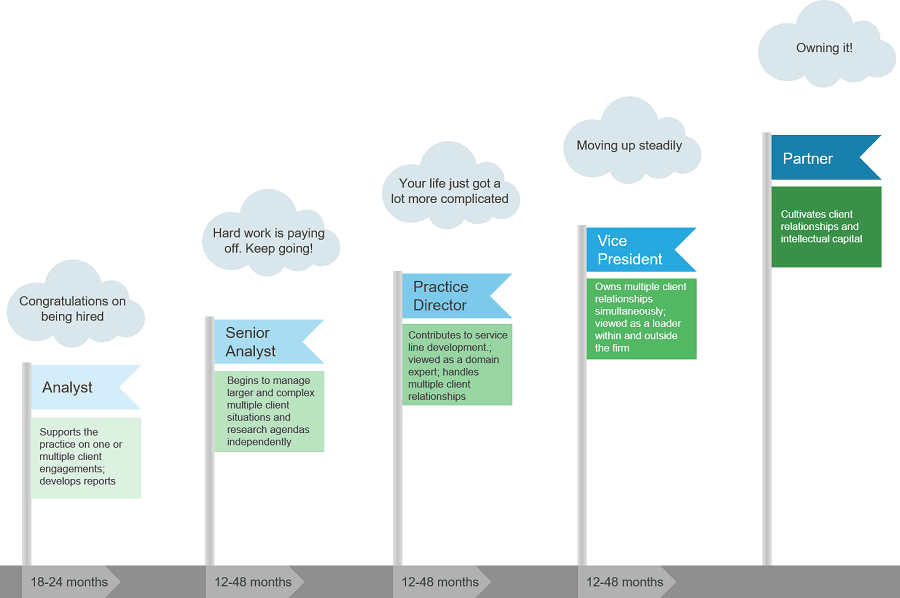 Telephone Conversation with Everest Group Recruiting Team: Everest Group's HR team will conduct a 30-minute interview over the phone to learn about you and evaluate your fit, experience, and interests. You will also have the opportunity to ask questions, learn more about us and understand the role at a high level
Telephone Case Interview: A panel of two Practice Directors will evaluate you on problem-solving and communication during a 60-minute phone interview. The case study methodology will be used during this interview, with a focus on understanding your approach to a business problem. For Practice Directors and above, the process entails an additional 2 – 3 rounds of case interviews with Partners and/or Functional Leaders
Face-to-Face Interview: If you are selected, you will be invited to an in–person meeting with Partners and/or Functional Leaders and the HR leader. This interview will include: 1) a business case evaluation and 2) a behavioral interview, using a situation based approach. During this meeting, you will also have an opportunity to ask us any questions you may have, learn more about us and get additional details about the role